How spicy is Korean food? A guide to Korean spices
Warning: Korean spice is mouth-wateringly addictive! This is because it's not just any spice. Korean food is well-known for the spicy and tangy flavours that come from preservation and fermentation. It has been said that Koreans appreciate the cathartic feeling when eating spicy food (the release of that punchy kick!) But whether you are someone who likes to turn up the heat — or you prefer to be able to taste more subtle flavours — read on as we take a closer look at spicy (and not-spicy) Korean favourites.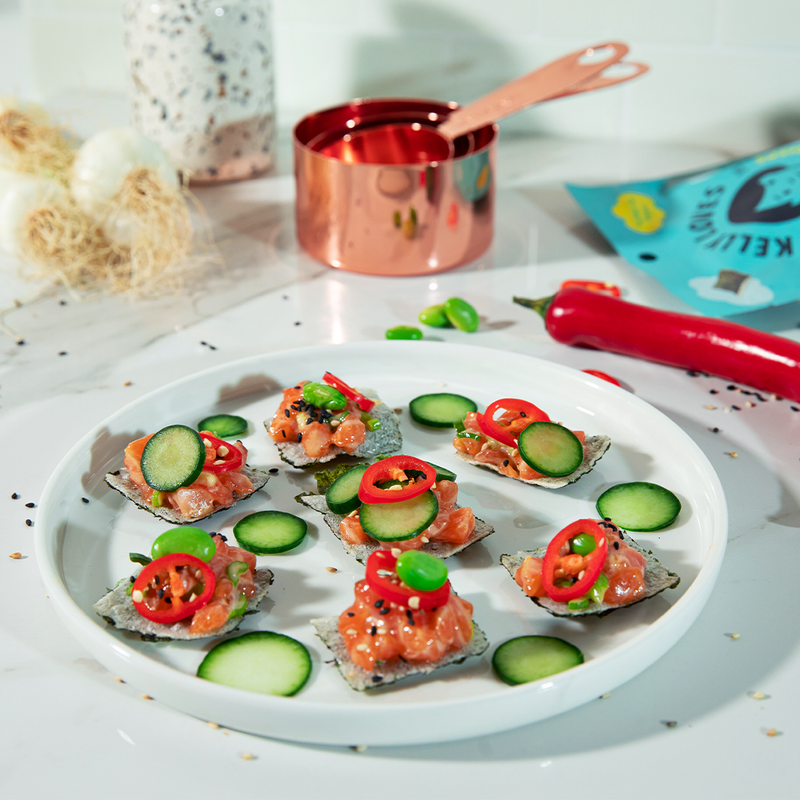 Why is Korean food spicy? 
Korean food is famed for its spiciness, but Korea was actually late to the party when it came to enjoying spicy chilli peppers. Now a staple spice in Korean cooking, gochugaru is a chilli powder that consists entirely of dried chilli peppers that have been deseeded. But Portuguese traders didn't bring chilli peppers to Korea until the 19th century. And the Korean chilli pepper actually isn't as spicy as people think — the pepper used to make gochugaru has a relatively mild rating of under 2,500 Scoville units (in comparison, the Cayenne pepper starts at 30,000 Scoville units). Korean foods like 'fire noodles' have become popular due to the  popularity of viral challenges. Although Korean chilli isn't the hottest on the Scoville test, Korean cooking methods such as fermentation cause the spicy flavours to diffuse more quickly, so they can seem to taste even spicier! 
Common ingredients and spices used in Korean cooking 
Koreans have perfected the art of fermenting over thousands of years and many fermented dishes have a spicy element to them, such as kimchi, Korea's famous spicy cabbage. Kimchi adds a lightly spicy and super tasty flavour to our kimchi ramen.
The most common Korean ingredients used to enrich the flavours of Korean cooking are:
Chilli pepper flakes (gochugaru)

Chilli pepper paste (gochujang)

Spring onions

Soybean paste (doenjang)

Soy sauce

Sesame oil

Garlic
How spicy is Korean food? 
Just how spicy is Korean food? Let's explore the hottest…
Is Korean food spicier than Indian food?
It depends on the dish, but the spiciest Korean food doesn't get nearly as spicy as the spiciest Indian food. The sinister sounding ghost pepper, India's hottest pepper, is 170 times hotter than Tabasco sauce, while the chung-yang pepper in Korea has less heat on the Scoville scale than classic Tabasco.
What are the hottest Korean foods?
If you are a curious spice lover and want to enjoy some serious heat in a Korean restaurant, ask the staff for advice and a small sample first (take a tiny amount on your tongue as a first step if you aren't used to spice). Some of the hottest dishes include:
Buldak (aka 'fire chicken', heavily spiced BBQ chicken)

Onnuriye donkatsu (pork cutlet)

Galbi jjim (braised short-ribs) 

Tteokbokki (rice cakes in chilli sauce) 

Lee kang-sun silbijip nakji bokkeum (stir-fried octopus) 

Jjambbong (spicy seafood noodle soup) 
Is all Korean food spicy? 
For those foodies who prefer a milder dish, with no tissues or glass of milk to hand, there are numerous non-spicy Korean dishes to indulge in. In fact, many of the most-loved Korean dishes are spice free. These include:
Bulgogi — meat marinated in soy sauce, sesame oil, sugar and ginger (one of Korea's signature dishes).

Kimbap — rice rolled in seaweed with fillings like kimchi, cucumber or egg.

Gyeranjjim — steamed egg casserole.

Pajeon — Korean pancake with green onions.

Cup toast — a favourite street food in Korea — fried sandwich with vegetables, spilling out of a cup. We love food in a cup; so handy!

Samgyupsal — aka 'the Korean bacon'. In a Korean restaurant, slices of pork belly meat are grilled on your table. 

Japchae — sweet potato starch noodles, usually served as a side dish, but so moreish there's no rule that says you can't size it up and make it a main! 
If you're a spicy food lover like us, then we hope you are keen to start exploring all the spiciness that Korean cuisine has to offer and taste something new. Meanwhile, if you are looking for a traditional Korean snack that packs a punch to satisfy your taste buds in between outings to your local Korean restaurant, try our wasabi crispy nori snacks for the authentic taste of Korea at home. You could even get adventurous with our Asian food gift sets.