Korean red ginseng tea: all you need to know
Put the kettle on and get ready to learn about all things Korean red ginseng. This mighty health hero is famous in Asia and we're slowly catching up in the UK. If you're a ginseng newbie, Korean red ginseng tea is a refreshing and palatable way to get your healthy dose. But is it your cup of tea? Let's find out…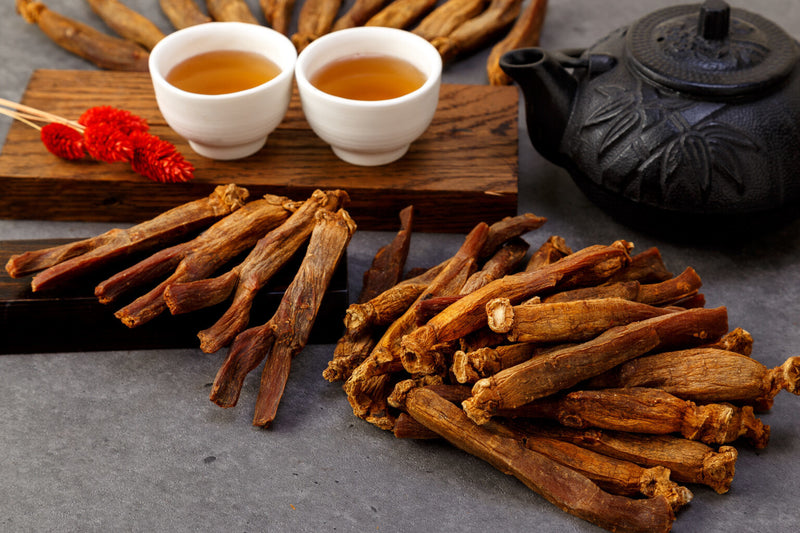 What is Korean red ginseng tea? 
Clearly, coffee is taking over the world, one coffee shop at a time. But tea is still ingrained in Korean culture (we can relate to that in the UK). So there are several different types of Korean tea available. With many of us trying to find natural ways to improve our health, Korean red ginseng tea has become even more popular over the past few years. Enjoying a hot cup of Korean red ginseng tea on a cold winter's morning is not only comforting, enjoyable and hydrating, but can be very beneficial for our health. 
This warming drink is made with the root of the Korean ginseng plant (note: not to be confused with American or Siberian ginseng which are both very different). The tea has a rather earthy taste, so it is usually mixed with honey, sugar or lemon. Many Korean ginseng fans drink a cup in the morning to perk them up and give them an energy boost. It's also useful to keep some Korean red ginseng tea bags in your desk drawer to have a cup when that 3pm post-lunch slump hits. It's a much better option than a high-sugar energy drink and also a good alternative to coffee if coffee makes you jittery. 
A cup of Korean red ginseng tea also packs in some strong antioxidant properties. This is because the tea naturally contains plenty of:
✔ Vitamin C
✔ Flavonoids
✔ Ginsenosides 
✔ And other phenolic acids (higher levels in younger ginseng leaves and roots)
What is Korean red ginseng tea used for? 
How to use Korean ginseng tea 
Korean red ginseng tea has a huge variety of uses including: tea, lattes, sweets, supplements, tonic and skin creams. The ginseng root can also be chopped or powdered and used in Korean cooking to flavour stews, roasts, salads and soups such as the nutritious and popular Korean foods, including samgyetang.
Health benefits of Korean red ginseng tea
Many studies have found that Korean red ginseng could help with the regulation of blood pressure, cholesterol levels and blood sugar. Korean red ginseng tea is also said to be good for:
Decreasing stress — Korean red ginseng tea has been found to reduce stress-related depression and anxiety and improve concentration and memory. 
Increasing strength — as this super tea increases blood flow and the amount of oxygen carried around in your body, it can help to energise and revitalise your body, leading to improved exercise. Korean red ginseng tea is also said to aid weight loss. The theory is that it boosts the metabolism of fat cells so your workouts will burn more fat. 
Improving skin health — Korean red ginseng has anti-inflammatory properties and boosts the flow of blood and oxygen to your skin, so it can be found in hydrating or anti-ageing face creams.
Sexual health — we know that this super tea increases blood flow and helps people feel mentally and physically boosted. So, although it's not a medical treatment, it has been said to be beneficial to those suffering from erectile dysfunction or low libido.
What are the side effects of drinking Korean red tea? 
Korean red ginseng is used as a health supplement, so like any supplement, it has to be taken according to the instructions provided. Likewise, tea should not be consumed in excess. Too much tea could result in restlessness or excitability. Some people have reported symptoms such as a rapid heartbeat, headaches or diarrhoea. 
The most serious side effects are allergic reactions or complications with certain medications, so it is vital that you talk to your doctor if you're currently taking medication. And avoid this tea if you're pregnant: studies have found that it's not safe for a developing baby in the womb — and although the evidence isn't definitive — it's just not worth the risk. Breast cancer patients are also advised not to drink Korean red ginseng tea due to hormone complications.
Korean red ginseng tea has been consumed for centuries in Asia for its medicinal properties, and thanks to modern scientific research, growing evidence is now supporting the health claims. What's more, Korean red ginseng tea fans will tell you that drinking a cup in the morning just makes them feel happier and brighter. We think that sounds great, especially if you aren't a morning person! Here is some further information about Korean Teas - if you're curious, just give it a try.