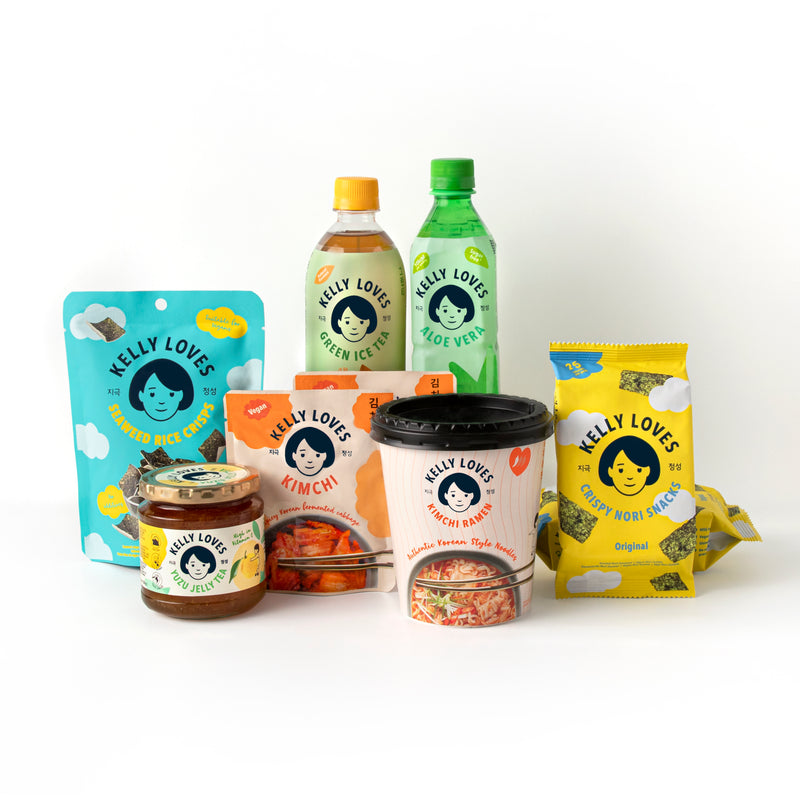 Authentic Recipe
Palm Oil Free
MSG Free
GMO Free
Korea has a great heritage of delicious cuisine. The Korean variety box gives you a taste tour of Korea, sampling traditional favourites, following authentic Korean recipes.
A selection of some of my favourite Kelly Loves products
Kelly x
THE KELLY BEHIND KELLYLOVES:
KELLY CHOI
I was born in Korea, studied in Japan and moved to Europe, where I launched my business, Sushi Daily. As an entrepreneur searching for the best flavours from the Far East, food connects me to home.

After the success of Sushi Daily, I wanted to bring Korean cuisine – the closest to my heart – to my western friends, and Kelly Loves was born.
With Kelly Loves, I get to share my favourite finds: snacks and meals discovered in local stores, down bustling backstreets, around dinner tables, that evoke memories of my childhood. There's just one test: only food good enough for my daughter makes it into the family.
Read my full story
really good
I really appreciated the selection of products. Good ramen, good kimchi and I also loved the jam tea.
Absolutely amazing!
Love this whole line of products. I only wish it were commercially available in all grocery stores!
Love the Sesame Seeds!
Taste great! Great selection of Korean Food in Kellyloves food.
Fabulous
Gave this as a gift to my friend she was raving how good it was
Better Together!
Many of our products are designed to be together, why not try these.

Reusable Metal Chopsticks
1 x Stainless Steel Chopsticks
Rice & Peanut Crackers
1 x 80g Pouch
More You May Like
Learn to cook authentic Japanese and Korean cuisine at home, with recipes from our expert chefs.
Shop Kelly's Picks!