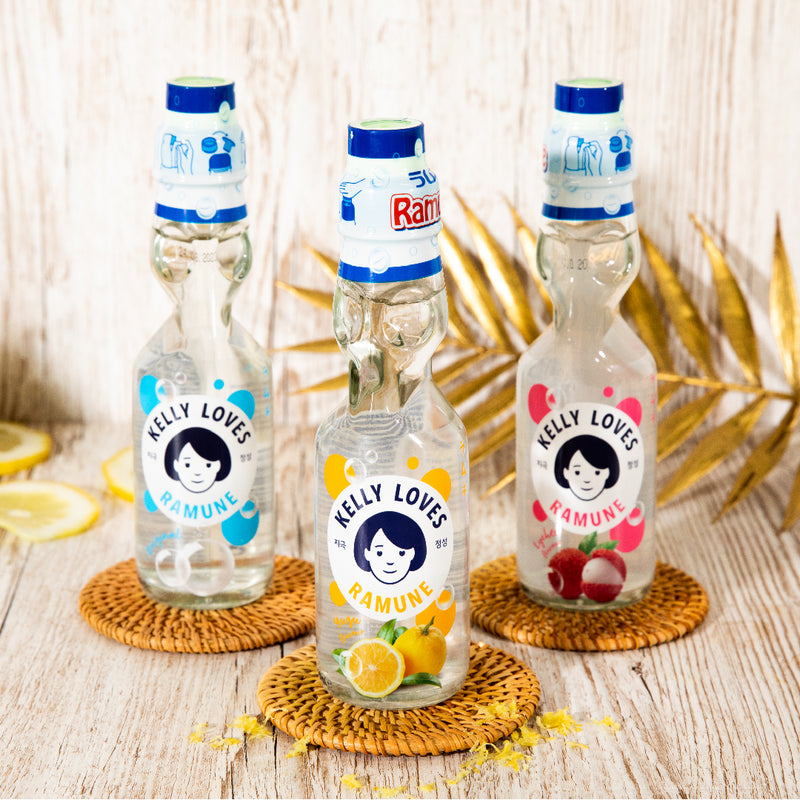 Authentic Recipe
Palm Oil Free
Vegan
GMO Free
A delicious variety pack containing Original Ramune, Lychee Ramune and Yuzu Ramune. Ramune is a traditional Japanese summer festival drink and our Ramune comes in a traditional bottle with a small glass marble that keeps the Ramune fizzy for longer!
Original: Carbonated water, fructose-glucose syrup, acidity regulators (E330, E331), flavour enhancer (E327) Lychee: Carbonated water, fructose-glucose syrup, sugar, flavouring, acidifiers (E330, E331) Yuzu: Carbonated water, fructose-glucose syrup, acidifiers (E330, E331), Yuzu flavouring.
Order within
0hrs, 00m
for Next Day delivery
Sorry - Next Day Delivery is only available weekdays and non-bank holidays
Ramune is for me a special treat during matsuri summer festivals. This lemonade reminds most Japanese of their childhood.
Kelly x
THE KELLY BEHIND KELLYLOVES:
KELLY CHOI
I was born in Korea, studied in Japan and moved to Europe, where I launched my business, Sushi Daily. As an entrepreneur searching for the best flavours from the Far East, food connects me to home.

After the success of Sushi Daily, I wanted to bring Korean cuisine – the closest to my heart – to my western friends, and Kelly Loves was born.
With Kelly Loves, I get to share my favourite finds: snacks and meals discovered in local stores, down bustling backstreets, around dinner tables, that evoke memories of my childhood. There's just one test: only food good enough for my daughter makes it into the family.
Read my full story
Love the Lychee one
Lychee one is really nice and the glass ball feature is quite new and unusual. The other 2 flavours didnt really taste of much
Amazing
Amazing great taste would definitely buy them again
Better Together!
Many of our products are designed to be together, why not try these.
Ramune Soda Variety Pack
3 x 200ml Variety Pack
Rice & Peanut Crackers
1 x 80g Pouch

Kimchi Ramen Noodles
1 x 188g Pot
More You May Like
Learn to cook authentic Japanese and Korean cuisine at home, with recipes from our expert chefs.
Shop Kelly's Picks!