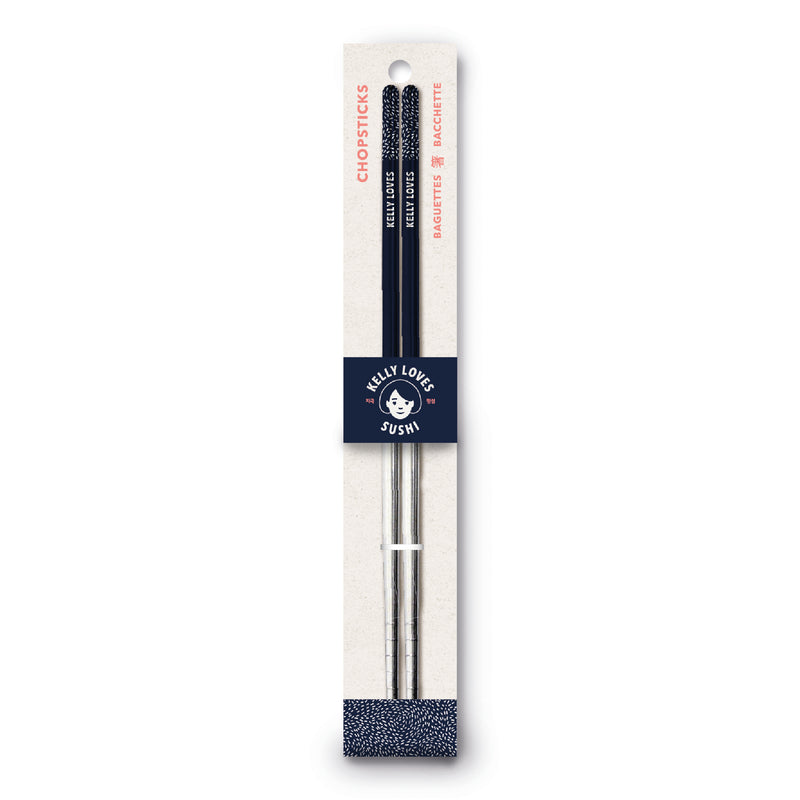 Reusable Metal Chopsticks
Cut back on single use plastic, with these light weight stainless steel Chopsticks. Easily wash them in the dishwasher, time and time again and enjoy them for many years, knowing that they're infinitely recyclable.
235 x 6mm in size, sold as a pair.
Stainless Steel
Order within
0hrs, 00m
for Next Day delivery
Sorry - Next Day Delivery is only available weekdays and non-bank holidays
Take these reusable chopsticks wherever you go, and help us cut down unnecessary waste.
Kelly x
THE KELLY BEHIND KELLYLOVES:
KELLY CHOI
I was born in Korea, studied in Japan and moved to Europe, where I launched my business, Sushi Daily. As an entrepreneur searching for the best flavours from the Far East, food connects me to home.

After the success of Sushi Daily, I wanted to bring Korean cuisine – the closest to my heart – to my western friends, and Kelly Loves was born.
With Kelly Loves, I get to share my favourite finds: snacks and meals discovered in local stores, down bustling backstreets, around dinner tables, that evoke memories of my childhood. There's just one test: only food good enough for my daughter makes it into the family.
Read my full story
They're just regular chopsticks but soo much better to use than wooden ones
Amazing
Bought these after using metal chopsticks in japan. These are light and brilliant to use.
The best!!
Got my girlfriend the box set for her birthday because we love making sushi together and it's been brilliant! Thank you!
It's really good.
These chopsticks are great. I love the feel and weight.. Just right.
Better Together!
Many of our products are designed to be together, why not try these.

Kimchi Ramen Noodles
1 x 188g Pot

Kimchi Sachet
1 x 80g Sachet

Crispy Nori Snacks
1 x 4g Pack
More You May Like
Learn to cook authentic Japanese and Korean cuisine at home, with recipes from our expert chefs.
Shop Kelly's Picks!