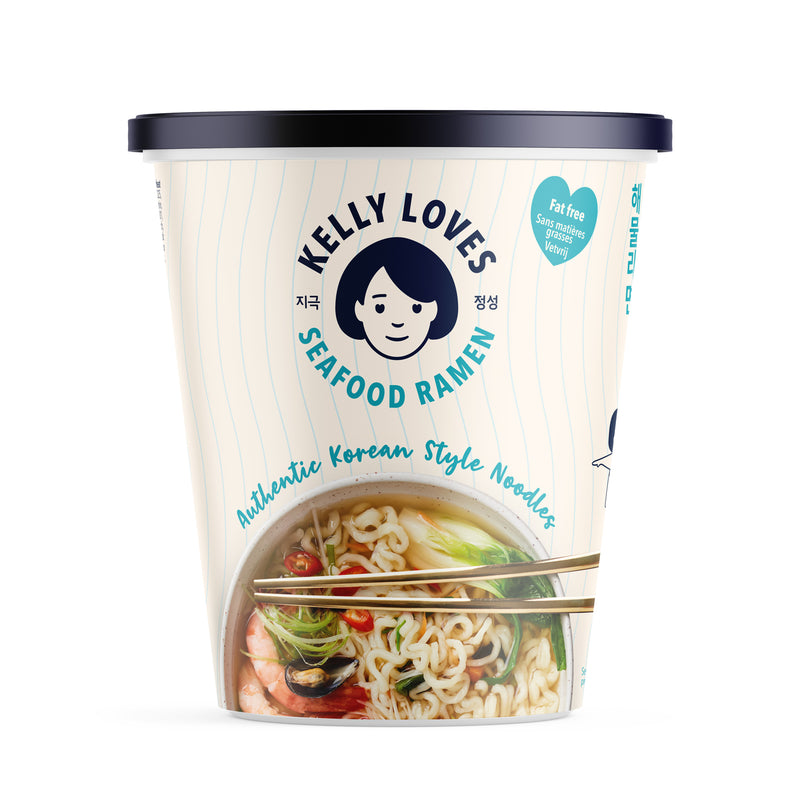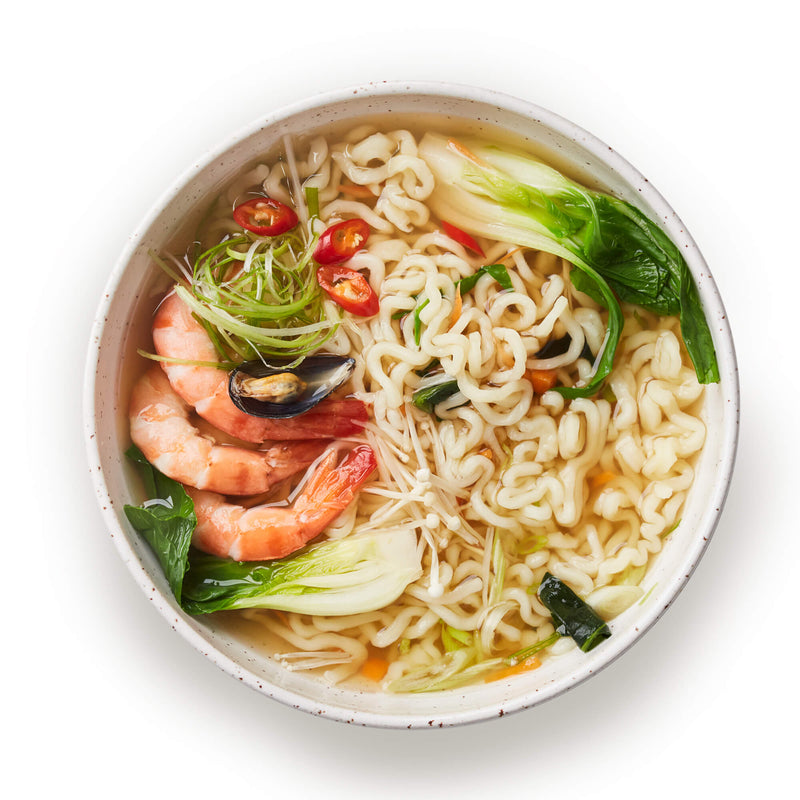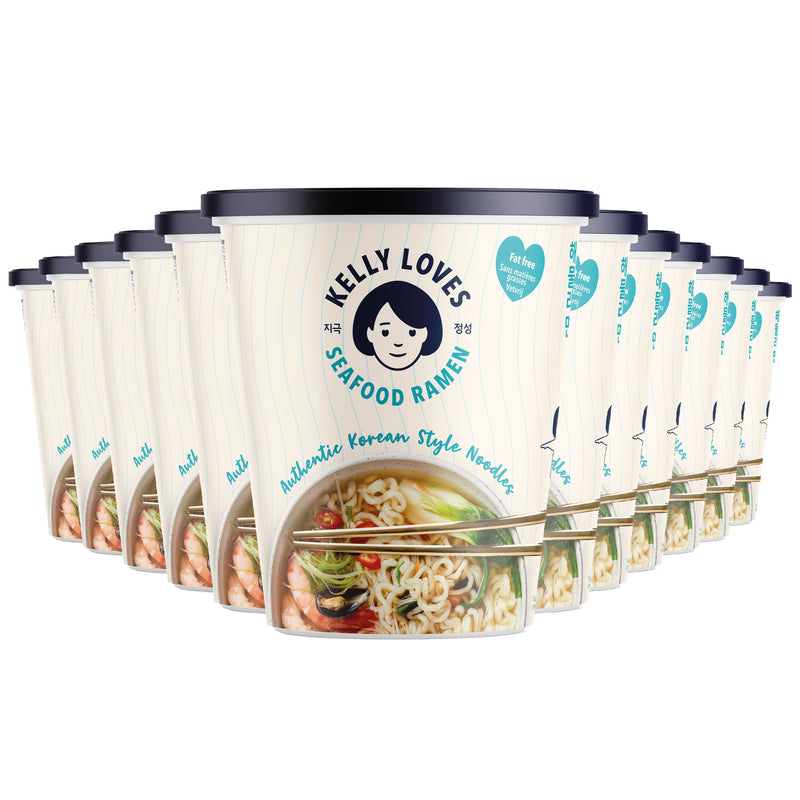 Authentic Recipe
Low Calorie
MSG Free
GMO Free
Following an authentic Korean recipe, each pot contains a generous serving of Seafood Ramen noodle soup. Containing a mix of herbs vegetables, Prawns, Squid, Oysters, Shrimp and delicious cooked ramen noodles in a seafood broth. All coming together to create a delicious and flavour packed Seafood Ramen Soup - ideal meal on the go.
Gluten, Wheat, crustacean, mollusc, fish
Ramen Noodle 89% [wheat flour, modified tapioca starch, wheat gluten, salt, corn oil, onion concentrate, acidity regulators (E270, E260, E325, E501, E500), colour (E101), water], Seafood Broth 7% [manila clam extract powder, squid extract powder (squid, soy), sea mussel powder, salt, sugar, dextrin, glucose, garlic powder, acidity regulators (E501, E500), onion powder, dried shrimp powder, clam seasoning (flavour enhancer (E635), clam extract, palm oil, corn starch, oyster extract, shrimp extract, red pepper extract, pepper powder, seaweed extract), anchovy powder, black pepper powder], Seafood Cube 4% [green onion 0.1%, squid, spinach <0.1%, dextrin, onion <0.1%, red pepper <0.1%, potato starch, dried shrimp <0.1%, dried tree ear mushroom <0.1%, dried carrot <0.1%].
Order within
0hrs, 00m
for Next Day delivery
Sorry - Next Day Delivery is only available weekdays and non-bank holidays
This ramen recipe has quality freeze dried seafood and vegetables, for extra texture and flavour.
Kelly x
THE KELLY BEHIND KELLYLOVES:
KELLY CHOI
I was born in Korea, studied in Japan and moved to Europe, where I launched my business, Sushi Daily. As an entrepreneur searching for the best flavours from the Far East, food connects me to home.

After the success of Sushi Daily, I wanted to bring Korean cuisine – the closest to my heart – to my western friends, and Kelly Loves was born.
With Kelly Loves, I get to share my favourite finds: snacks and meals discovered in local stores, down bustling backstreets, around dinner tables, that evoke memories of my childhood. There's just one test: only food good enough for my daughter makes it into the family.
Read my full story
Was so delicious and so easy to make
Smells awful
I dont know how people think this tastes nice, i love seafood ramen,but i couldnt even finish this. It smells like rotten fish and seaweed. Think seaweed filled beach. Tasteless and gross so dissapointed as they were quite expensive
Awesome noodles
I love these noodles - a healthy pot noodle!
Better than chicken soup!
Bought this for my daughter when she had tonsillitis and could only eat liquids.
Better Together!
Many of our products are designed to be together, why not try these.
Seafood Ramen Noodles
1 x 168g Pot
Aloe Vera Drink (sugar free)
1 x 500ml Bottle

Kimchi Sachet
1 x 80g Sachet
More You May Like
Learn to cook authentic Japanese and Korean cuisine at home, with recipes from our expert chefs.
Shop Kelly's Picks!