How to Make Tempura Sushi at Home
Are you on the search for a sushi dish you haven't tried before? Fancy something that offers a crispy crunch with a soft filling? If so, tempura rolls could be just what you're looking for. 
But what exactly are tempura rolls and how do you make them at home? We've gathered all the information you'll need to try out this popular delicacy for yourself.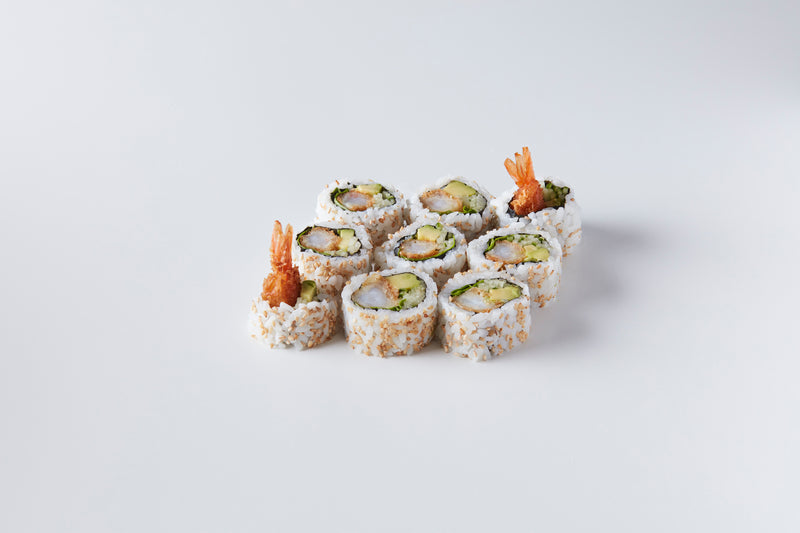 What is a tempura roll?
Tempura rolls share some similarities with the popular California roll. Both of these rolls have rice on the outside rather than the inside, also known as 'inside-out' rolls.
But the most important part of these rolls is the batter itself. Seafood, fish or vegetables are covered and deep-fried in tempura batter to create that beautiful, crispy filling. Tempura-fried shrimp is the most common filling used within these rolls, along with fresh cucumber and avocado. But don't be scared to get creative and experiment with some different ingredient combinations. 
Tempura rolls are packed with flavour already, but spicy mayo sauce is commonly drizzled over the top for an extra kick.
What equipment do you need to make tempura rolls at home?
Feeling hungry? Despite the fancy names, tempura rolls are actually fairly easy to make at home. 
First things first: let's check if you've got all the equipment needed. For these rolls you'll require:
A small mixing bowl

A cutting board

A large pan

A large wooden spoon

Chopsticks

A very sharp knife
And that's it! All you need is a few basic pieces of equipment for these tasty tempura rolls. Then there's just one other thing you must have…the ingredients. 
What ingredients do you need to make tempura rolls at home?
This is the exciting part. The ingredients for tempura rolls aren't hard to find, so there's no excuse to not try making these yourself. If you want to save time, you can buy fillings that have already been coated in the tempura batter, such as tempura shrimp. Or, if you want the full experience, you can easily whip up the batter yourself. 
You'll need:
2 cups of

sushi rice 

3 tablespoons of

rice vinegar

2 tablespoons of salt

2 tablespoons of sugar 

1 cucumber

1 avocado 

Fresh shrimp

1 cup of plain flour

1 cup of water

Ice cubes to chill the water

1 egg

1 cup of breadcrumbs 

Extra plain flour for coating

Frying oil

Spicy mayo sauce
We've suggested using shrimp, but this can be swapped with other seafood, fish or vegetables, such as sweet potato or zucchini. 
Instructions to make tempura rolls 
There are two main parts to the process of making tempura rolls: making the batter and making the roll. As with all types of sushi, the ingredients inside need to be carefully layered and kept tightly inside while it's rolled up. Tempura rolls are sliced into small pieces that can be placed in your mouth.
How to make the tempura batter
Let's start with the batter. 
Sift the flour into a small bowl and place to one side

In a different bowl, beat the egg (using both the yolk and whites)

Add the cup of ice-cold water into the bowl with the egg (making sure not to include the ice cubes)

Add the flour into the bowl with the egg and water and gently mix together using chopsticks

Take care not to mix the batter too much as it needs to stay a little lumpy

Lightly coat the shrimp pieces in a little flour before gently dipping them into the tempura batter

Dip the shrimp into a pan of hot oil until golden brown (the oil should be around 180°C)
How to make the roll
Now you've got your batter, it's time to get rolling with the ingredients (literally).
1 . In a bowl, mix together the vinegar, sugar and salt
Pour in the rice and combine together

Lay a nori sheet shiny side down on a bamboo mat

Place a scoop of rice on the nori sheet and spread evenly, leaving around 2 inches at the top and bottom

Flip the nori upside down so the rice is underneath

Place your shrimp and other thinly-sliced ingredients on top of the rice near the edge closest to you

Lift the end of the mat and roll it away from you, using your thumbs to keep the filling inside

Slice into equal-sized sushi rolls with a sharp knife
And there you have it, tasty tempura rolls ready to serve. This type of sushi is fairly easy to make, but if you're a beginner to the world of sushi, you can purchase our sushi making kits, which have all the essential ingredients.