What are the most popular Korean foods?
In celebration of Korean food, these are flavoursome dishes worth marvelling at. If you haven't had the chance to try any Korean cuisine yet (or you are looking for some inspiration) here are some of the most famous Korean foods that we think you'll love.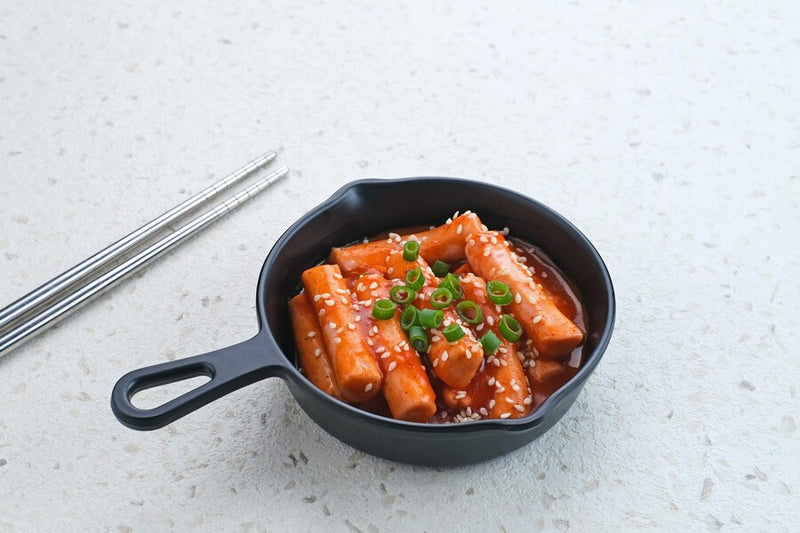 Kimchi
Kimchi is wildly popular, not just in Korea — it's become trendy across the globe. During lockdown, many a foodie spent the time making some homemade kimchi (lined up in Instagram-worthy mason jars). If you aren't already a convert/kimchi addict and you haven't tried it before, it can be hard to explain in an appealing way: 'fermented cabbage, anyone?' But it really is mouth-wateringly delicious — spicy, tangy, fizzy crunchiness — and satisfyingly juicy. It's so loved in Korea that it is served with every meal and kept in batches in the fridge. Not only is it moreish, but there's lots of health benefits of kimchi. No wonder it's so admired. 
Bibimbap  
Colourful, nutritious food bowls are bang on-trend. But Koreans have been creating bibimbap long before the recent lunch-in-a-bowl. Bibimbap is a bowl full of rice, soy sauce, vegetables, beef, a nice big dollop of gochujang and a fried egg on top. The ingredients can vary, depending on the region. The most popular versions of bibimbap are found in Jinju, Jeonju and Tongyeong. So why is bibimbap so popular? Well, it appeals to everyone as you can vary the ingredients accordingly. Bibimbap is also presented beautifully so that it looks appetising — an array of vibrant colour, with all the ingredients carefully arranged. 
Tteokbokki  
Tteokbokki is translated as 'stir-fried rice cake'. It can also be spelt: dukbokki, topokki, ddukbokki and ddeokbokki. Part of Seoul is dedicated to these iconic bright red and glistening rice cakes, they're so popular! A beloved street food, tteokbokki consists of steamed rice cakes (tteok) in a spicy red chilli sauce, cooked with spring onions and fish cakes (oden). Slightly sweet, spicy, soft and chewy, these rice cakes are the ultimate carb-loaded comfort food and wonderfully moreish. You'll find yourself craving the heavenly texture and flavour, especially on a cold day.
Bulgogi  
Even if you aren't very familiar with Korean food, you may well have heard of bulgogi. Succulent, juicy beef, bulgogi is one of the most popular Korean dishes in the world. The marinated beef is usually grilled with onions and garlic (...that mouth-watering aroma!). You then can eat the beef with ssamjang (spicy paste) wrapped in lettuce. As this popular Korean dish has become famous outside Korea, some cool fusions have popped up including bulgogi panini and bulgogi burgers. Yum.
Japchae  
Japchae is translated as 'mixed vegetables'. This is because when it was first invented (way back in the 17th century), japchae didn't include any noodles, just the veg. Today, the main highlight is the famous glass noodles with a soft and slightly chewy texture. Glass noodles are still very much a novelty in the UK so this is a fun dish to cook at home and serve to guests. The glass noodles are made with sweet potato and are served with meat and veg. Although we usually think of a noodles-based dish as being a main dish, Japchae is often offered at the table as a side dish.
Ramyun
You might not have heard of the name 'ramyun' but you will probably be familiar with Korean instant noodles which have gone viral and are soaring in popularity across the globe. Ramyun is simply the name for Korea's highly popular instant noodles which can be spotted in K-dramas and films. In fact, Koreans consume the most ramen per person in the world! And there's nothing quite like eating a bowl of ramen noodles and broth — this popular Korean food is the ultimate comfort food.
Samgyetang  
Samgyetang (ginseng chicken soup) is a popular Korean dish known for its super healthy ingredients: chicken, Korean red ginseng, spring onions, Korean jujube, garlic and rice. You'd think this warming soup would be most popular in winter, but it's actually favoured on a hot summer's day! Koreans believe that samgyetang can help and prevent physical ailments due to its nutritious value and based on the lunar calendar, it's thought to be most effective on the hottest days of the year. The highly regarded Korean red ginseng can taste a little bitter, but the cooking process turns the bitterness into a distinct and moreish flavour.
Korean fried chicken
KFC? Korean Fried Chicken of course! In our humble opinion, this is so much yummier than Kentucky fried; there's no contest! This fried chicken is deletable: juicy chicken with a thin, crackly coating flavoured with a spicy, sweet and sour sauce. Take our word for it — nothing compares. In Korea, fried chicken is eaten as a meal, a starter, a post-meal snack or 'anju' (food served with a drink, often beer, and pickled radish). It is also a must-have when watching sporting events. 
Korean restaurants only use the tender meat of younger chickens. After seasoning and frying, the chicken is carefully hand-painted with the sauce using a brush to ensure the perfect coverage. Korean fried chicken didn't become popular until the 1970s and after that, it quickly became a staple. In fact, Korean fried chicken is now a national dish, much like our fish and chips. Data from Euromonitor International shows that South Korea is the world's third-largest market for fried chicken, only beaten by the far more populous China and US!
Popular Korean foods are now taking the world by storm as they become viral through YouTube, K-Pop, K-dramas and Korean films such as Oscar-winning 'Parasite'. And the popularity of Korean food across the world looks here to stay according to the stats. Korean food is successful due to its high flavour and moreish qualities. Korean dishes are fortunately easy enough to make at home as long as you have authentic ingredients to hand — and we can help you with that!