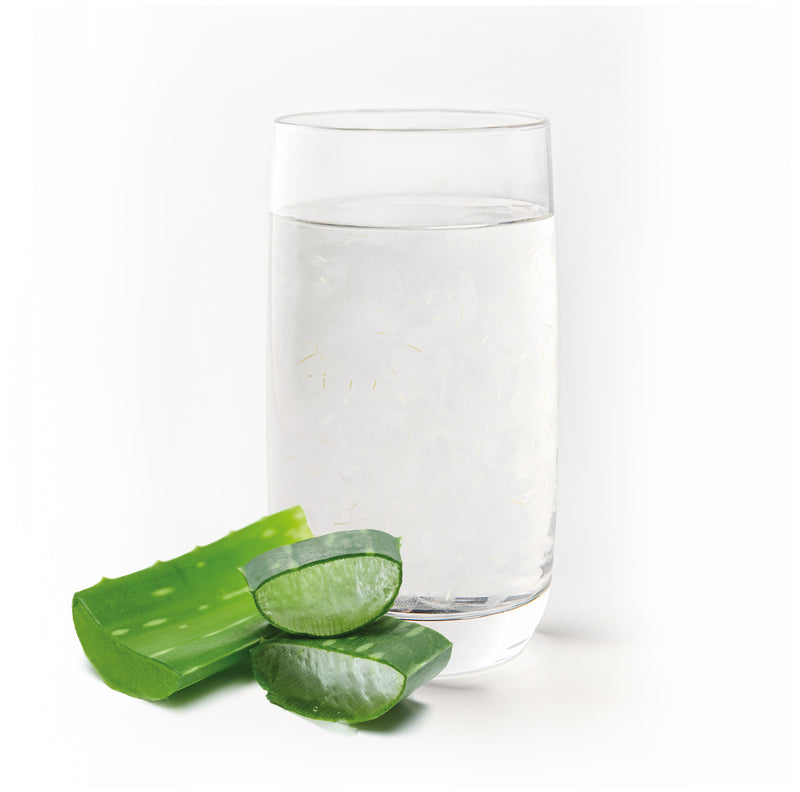 Aloe Vera Drink (sugar free)
Gluten Free
Vegan
GMO Free
Palm Oil Free
Satisfy your taste buds and tantalize your senses with our Aloe Vera Drink (sugar free)! With only 10 kcal per serving, you can have a guilt-free refresher that still packs a punch. Real aloe gel makes this beverage a time-honoured favourite across Asia, where it's been used to aid in wellness for centuries. Enjoy the light Aloe flavour and reawaken your senses with every sip!
Gluten Free
Water, aloe vera juice (21,2%), aloe vera gel (8%), natural flavourings (muscat, aloe), acidity regulators (citric acid, sodium citrate), stabilisers (calcium lactate, gellan gum), antioxidant (vitamin c), sweetener (sucralose)
Order within
0hrs, 00m
for Next Day delivery
Sorry - Next Day Delivery is only available weekdays and non-bank holidays
Aloe Vera plant has been used as a traditional remedy in many Asian countries for hundreds of years. Extracting its juice and pulp also makes a very refreshing drink with unique taste and sensations.
Kelly x
Better Together!
Many of our products are designed to be together, why not try these.
Aloe Vera Drink (sugar free)
1 x 500ml Bottle
Brown Rice Snacks
1 x 50g Bag

Crispy Nori Snacks
1 x 4g Pack
My favourite drink when I'm not drinking alcohol.
Everytime…
Everytime I have found a good Aloe Vera drink they usually discontinue the line so asking for a review might not be your best idea. Love these; very refreshing; rehydrates quicker than just water; nice bits to play with in the mouth; feels healthy!!
Hello Padmapriya,
Thank you for your feedback, the good news is, we're not discontinuing our Aloe vera.. The even better news is that there will be three new flavours joining the family this year, so keep an eye out for updates over the coming months.
Gorgeous and sugar free wow
Aloe Vera Drink (sugar free)
Good product and nice delivery
The product is good quality and delivery is quick
Frequently Asked Questions about Aloe Vera Drink (sugar free)
Is Kelly Loves aloe vera juice drink vegan?
Yes, our aloe vera drink is 100% vegan. You'd assume that all juice drinks would be outright vegan as they are made from plants, fruits and vegetables, but sadly no. Juice missing its pulp may have been distilled through non-vegan ingredients. And some juice drinks contain non-vegan ingredients to extend shelf life or for added colour or flavour.
Is Kelly Loves aloe vera juice drink sugar-free?
Yes, we're proud to say that our aloe vera juice drink is sugar-free. Many other brands add sugar to their aloe vera drinks. We recommend avoiding this; it only adds extra calories and greater risk of tooth decay. And without the sugar, you can reap the potential health benefits.
What does aloe vera drink taste like?
The Kelly Loves aloe vera juice drink is very refreshing, with a unique taste: citrusy and slightly bitter. We do not add sugar to our aloe vera drink, unlike other brands, for authenticity of flavour. Take a look at the ingredients list above: we ensure that we're completely transparent. The ingredients are simple, including (of course) a clear liquid extracted from the aloe vera plant known as aloe vera juice.
Need Help?
More You May Like
Learn to cook authentic Japanese and Korean cuisine at home, with recipes from our expert chefs.
Shop Kelly's Picks!