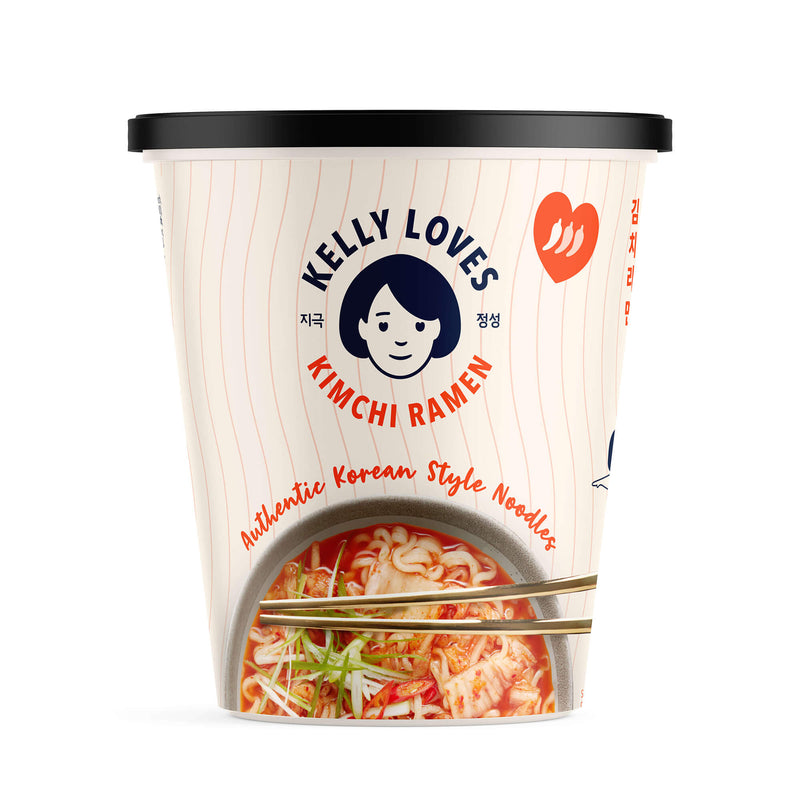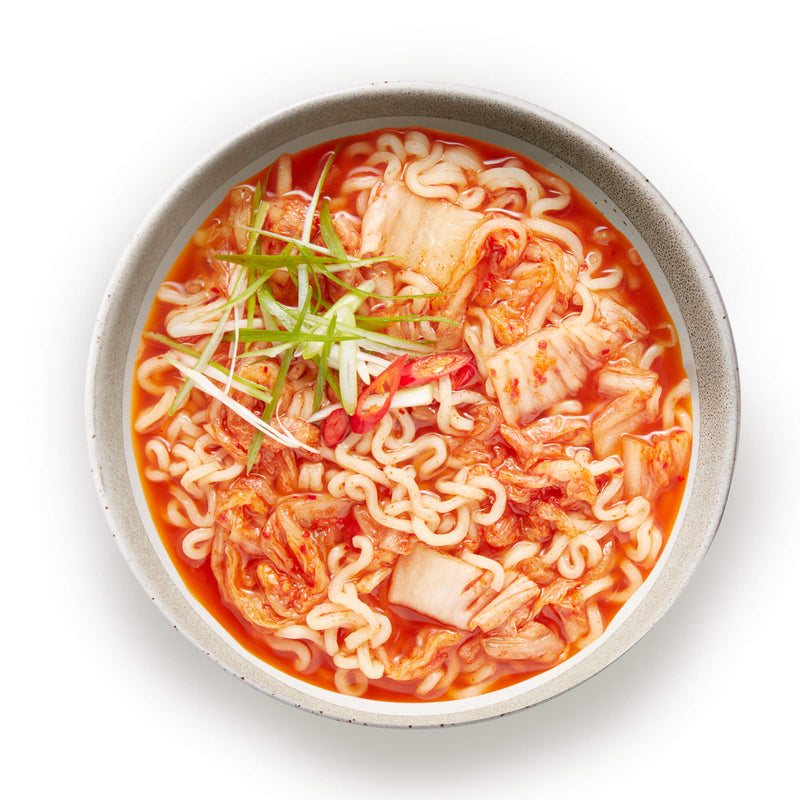 Palm Oil Free
Low Calorie
MSG Free
GMO Free
If you're seeking authentic Korean flavour, you must try our kimchi ramen — a traditional and all-time favourite meal in Korea! We've brought the best of flavours together, mixed with delicious ramen noodles, to create the perfect, light easy-to-make, grab-and-go meal. So versatile, you can eat it as a snack or simply add some extra Korean ingredients to turn it into a meal. How about stirring in some more juicy
kimchi
? Or adding some seaweed rice crisps on the side? Heaven.
Gluten, Mollusc, Crustacean, Fish, Soybean. May contain traces of eggs, milk, mustard, nuts, peanuts, sesame.
Ramen noodle 80% [water, wheat flour, modified tapioca starch, wheat gluten, salt, corn oil, onion concentrate, acidity regulators (E270, E260, E325, E501, E500), colour (E101)], spicy katsuo sauce 16% [water, onion, garlic, glucose syrup, katsuo seasoning (fish, soybean, wheat), salt, yeast extract, green onion, sugar, chilli pepper oil, chilli pepper powder, seasonings (molluscs, crustaceans), chilli seasoning (soy), modified starch, acidity regulator (E501), flavour enhancer (E635), colour (E160c)], kimchi cube 4% [kimchi 3.5% (Chinese cabbage, radish, red chilli pepper powder, garlic, salted shrimp, salted anchovy, glutinous rice, onion, sugar, glucose syrup, ginger, green onion, thickener (E415)), dextrin, thickener (E412). May contain traces of eggs, milk, mustard, nuts, peanuts, sesame.
Order within
0hrs, 00m
for Next Day delivery
Sorry - Next Day Delivery is only available weekdays and non-bank holidays
Enjoy this tasty and comforting ramen! It is the only thing I can think of when the cold winds start to blow.
Kelly x
THE KELLY BEHIND KELLYLOVES:
KELLY CHOI
I was born in Korea, studied in Japan and moved to Europe, where I launched my business, Sushi Daily. As an entrepreneur searching for the best flavours from the Far East, food connects me to home.

After the success of Sushi Daily, I wanted to bring Korean cuisine – the closest to my heart – to my western friends, and Kelly Loves was born.
With Kelly Loves, I get to share my favourite finds: snacks and meals discovered in local stores, down bustling backstreets, around dinner tables, that evoke memories of my childhood. There's just one test: only food good enough for my daughter makes it into the family.
Read my full story
Ramen and Seaweed chips
I died and went to heaven! I have been telling everyone about your site! I'm now officially addicted to the seaweed chips! Yummy
A fresh and delicious taste of Korea here at home in the Netherlands
I've been buying various supermarket ramens for years looking for the authentic taste of Korea, where I was fortunate enough to work for a decade. When I saw Kellyloves for the first time at the local supermarket, something about the packaging made it standout as not just your usual fare. It was great to open the package and find fresh noodles - the real secret - and so simple to add the sauce, water and then microwave. The preparation couldn't be easier but I was amazed at how fresh and satisfying the kimchi noodle soup tasted! I've also had udon and seafood ramen with a very similar experience. A perfect lunch, dinner, or snack made even more enjoyable with a side dish of Kelly Loves Kimchi!
Best instant ramen
Love these so much, especially the kimchi flavour.
So tasty
I love these noodles, so happy I could order online
Better Together!
Many of our products are designed to be together, why not try these.

Kimchi Ramen Noodles
1 x 188g Pot
Yuzu Iced Green Tea
1 x 500ml Bottle

Crispy Wasabi Nori Snacks
1 x 4g Pack
More You May Like
Learn to cook authentic Japanese and Korean cuisine at home, with recipes from our expert chefs.
Shop Kelly's Picks!