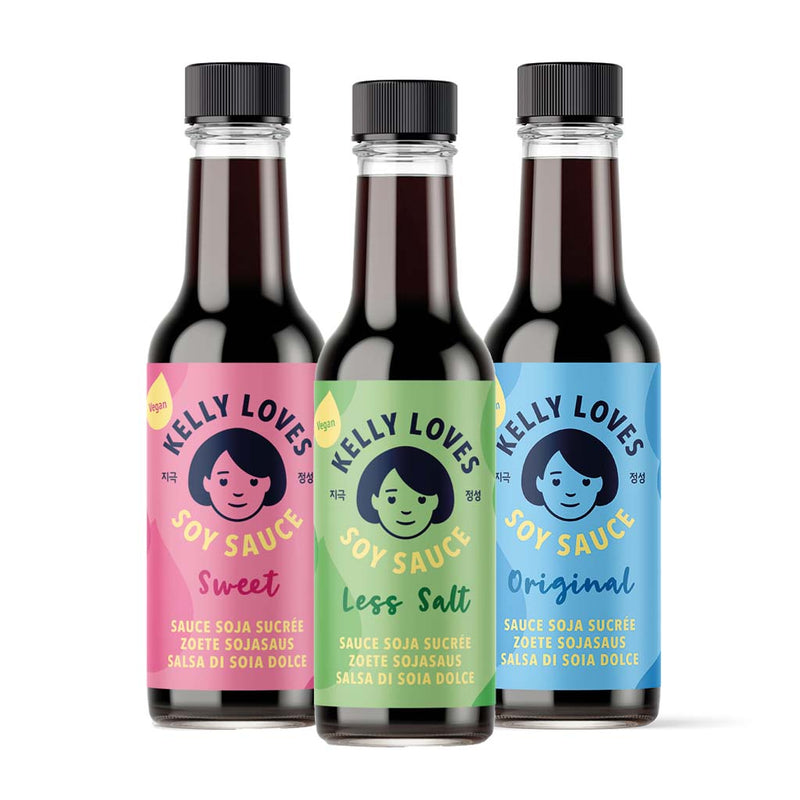 Authentic Recipe
Palm Oil Free
Vegan
MSG Free
Experience the flavours of all three of our naturally brewed and authentic soy sauces, with additional savings compared to buying the soy sauces separately.
Soybeans, Wheat
Water, soybeans, wheat, salt, alcohol.
Order within
0hrs, 00m
for Next Day delivery
Sorry - Next Day Delivery is only available weekdays and non-bank holidays
Better Together!
Many of our products are designed to be together, why not try these.

Ramune Soda Variety Pack
3 x 200ml Variety Pack

Kimchi Sachet
1 x 80g Sachet
Amazing home sushi kit!
We got the ultimate home sushi kit and also purchased the soy sauces and we were amazed by how good it was. Easy to do and so much fun, my 8 year old daughter really enjoyed it too and the final products were so tasty!
Sushi made easy
I'd always wanted to make sushi at home and looked at lots of kits before choosing one from Kelly's site. Quality ingredients delivered straight to my door. 5 stars !!
Frequently Asked Questions about Soy Sauce Pack
It is — we can confirm that our soy sauce is vegan. It's a good question, as sometimes other brand soy sauces can sneak in non-vegan ingredients in the form of flavour enhancers (E numbers). Our high-quality soy sauce follows traditional production methods and uses the basic ingredients to offer the best umami and richness.
Do I need to refrigerate my Kelly Loves soy sauce?
Yes and no, to keep your soy sauce at its best, refrigerate after opening to retain the freshness and flavour. By keeping the soy sauce in the fridge, you'll be extending the peak quality of the soy sauce. However, you don't need to. The soy sauce won't go bad at room temperature, but you want to preserve those high-quality characteristics.
Need Help?
More You May Like
Learn to cook authentic Japanese and Korean cuisine at home, with recipes from our expert chefs.
Shop Kelly's Picks!