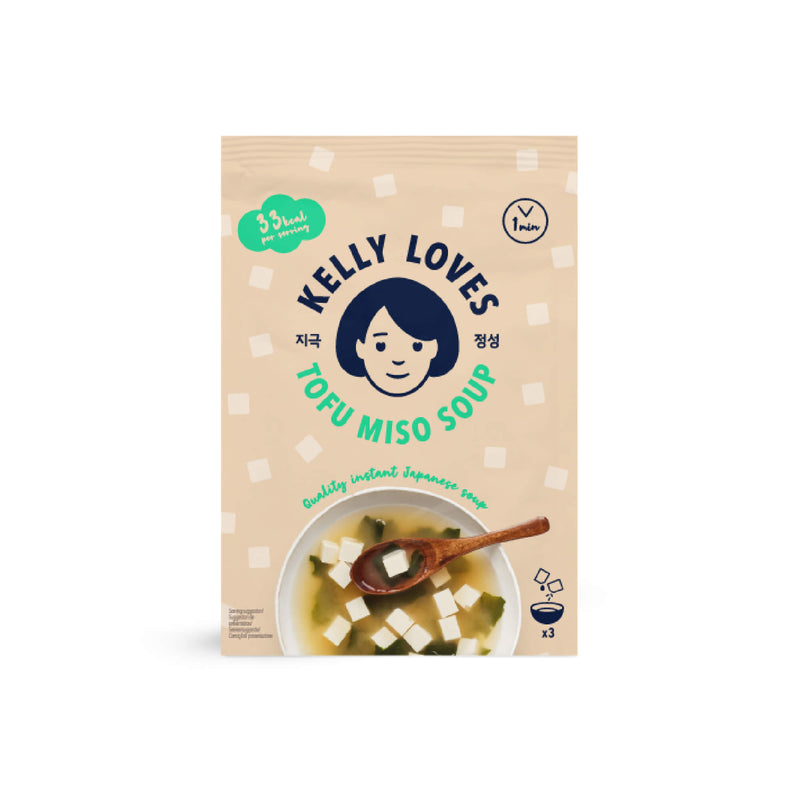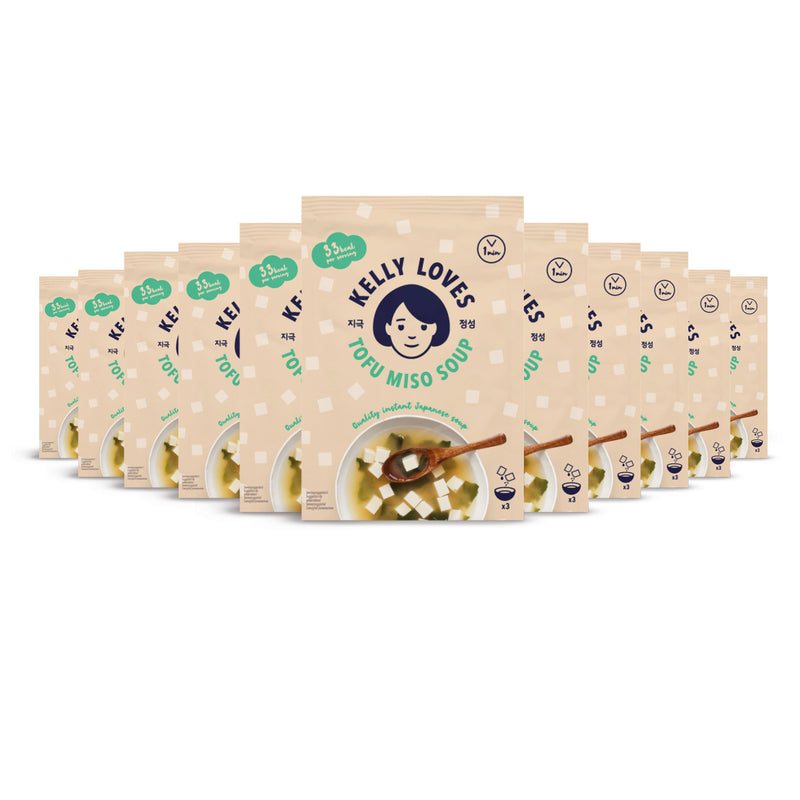 Gluten Free
Low Calorie
No Preservatives
Palm Oil Free
Our tofu miso soup contains a good serving of high-quality and delicious miso paste (not powder!) for an authentic, deep flavour and a generous garnish which includes real pieces of tofu. Each pack contains three delicious servings of tofu miso soup, perfect to put into your bag for on-the-go or keep in the cupboard for a comforting meal at home.
Soybean, Fish Gluten Free
Soup base (Soybean paste (58%) (Water, SOYBEANS, Rice, Salt), Water, Alcohol, Fish extract (Water, Dried FISH extract, Salt, FISH extract), Salt, Fermented seasoning (Fermented rice liquid (Rice, Corn, Potato, Sweet potato, Salt, Grape), Glucose, Glucose-fructose syrup, Glucose syrup, Sugar, Alcohol, Salt), Dried FISH powder, Yeast extract (Yeast extract, Dextrin), Sugar, Glucose). Garnish (Tofu (4.5%) (SOYBEANS, Maltose, Starch, Firming agent: E516), Seaweed, Spring onion).
Order within
0hrs, 00m
for Next Day delivery
Sorry - Next Day Delivery is only available weekdays and non-bank holidays
Miso soup is a classic and authentic Japanese dish. This recipe is made using quality miso paste, tofu, seaweed and spring onions.
Kelly x
THE KELLY BEHIND KELLYLOVES:
KELLY CHOI
I was born in Korea, studied in Japan and moved to Europe, where I launched my business, Sushi Daily. As an entrepreneur searching for the best flavours from the Far East, food connects me to home.

After the success of Sushi Daily, I wanted to bring Korean cuisine – the closest to my heart – to my western friends, and Kelly Loves was born.
With Kelly Loves, I get to share my favourite finds: snacks and meals discovered in local stores, down bustling backstreets, around dinner tables, that evoke memories of my childhood. There's just one test: only food good enough for my daughter makes it into the family.
Read my full story
Our family loves Kelly Loves
Kelly Loves miso soup in particular is a family favourite- with good quality base soup and excellent garnishes to lift the whole experience
Great tasting on the go snack!
I love miso soup and so I was super keen to try this! The flavour is amazing, really authentic and makes a great on the go snack for lunch - just add boiling water! The addition of the tofu was wonderful too, have not tried miso with tofu before but it was lovely and really filling 😊 highly recommend!
Better Together!
Many of our products are designed to be together, why not try these.

Tofu Miso Soup
1 x 3 Serve Pouch

Kimchi Sachet
1 x 80g Sachet

Kimchi Ramen Noodles
1 x 188g Pot
More You May Like
Learn to cook authentic Japanese and Korean cuisine at home, with recipes from our expert chefs.
Shop Kelly's Picks!