How to use cream cheese in sushi the right way
We all love a smoked salmon and cream cheese sandwich, but does this soft cheese really belong in sushi?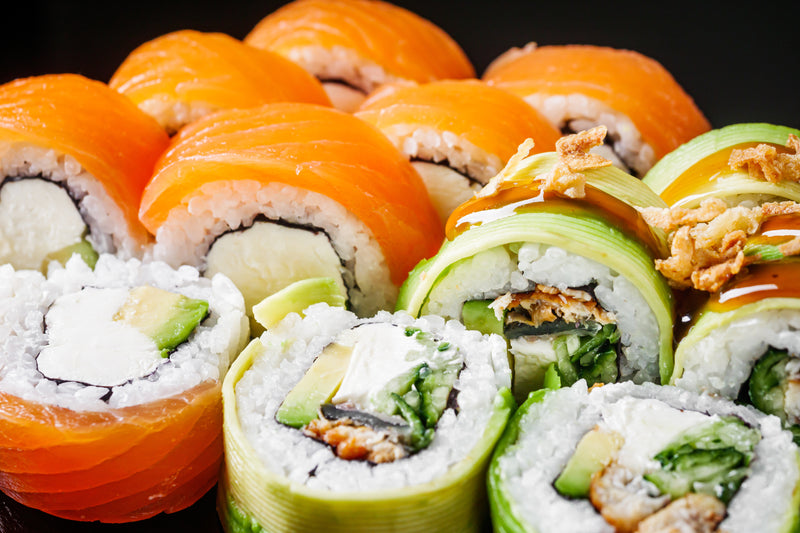 Cream cheese in sushi is somewhat of a controversial addition to this most traditional of culinary traditions. 
But can you really go wrong with cheese? Surely it makes everything taste better? Not always. With great cheese comes great responsibility. 
When used correctly, cream cheese in sushi is a match made in heaven. We share some of the best ways to make the most delicious cream cheese sushi that'll ever grace your taste buds.
Is cream cheese in sushi traditional? 
If there's one thing Japanese sushi is famous for, it's simplicity. Usually comprising rice, fish, nori (possibly) and some seasoning, it's not common to find richer sushi ingredients – such as cream cheese – in traditional recipes. Cream cheese in sushi is more common in western-influenced sushi recipes. 
However, cream cheese has been used in Japan since the Edo period, which began in 1603. The rich cream cheese was first introduced by European traders, commonly used in sweet recipes. The first use of cream cheese in a Japanese savoury dish was chawanmushi – similar to an egg custard traditionally served in a teacup.
Whilst cream cheese is common in western-style sushi, it didn't feature in traditional Japanese sushi. However, due to its popularity, it's now very common.
When is cream cheese used in sushi? 
Cream cheese is now found in all kinds of sushi, but here are three notable examples. You can make these tasty sushi rolls at home, or enjoy them in most Japanese-inspired restaurants.
Philadelphia rolls 
Ingredients:
Sushi rice

Rice vinegar

Nori seaweed

Smoked salmon

Cream cheese

Cucumber, cut into sticks
Philadelphia rolls are certainly an American take on Japanese sushi – it's in the name! That doesn't mean that these rolls aren't delicious though, and they include the classic ingredients from one of our favourite sandwiches: smoked salmon and cream cheese. 
The roll is a form of an uramaki ("inside out") roll, where the rice is on the outside, not the nori. This means that the rice is placed on the rolling mat first, then the nori, then the smoked salmon, cream cheese and cucumber – before being tightly rolled and sliced.
California roll with cream cheese 
Ingredients:
Sushi rice

Rice vinegar

Avocado

Cucumber

Crab sticks

Nori seaweed

Cream cheese
A California roll is another form of uramaki sushi, with the rice being on the outside. This refreshing roll features crab sticks, avocado, cucumber and, of course, cream cheese. It's fresh and crunchy, with the trick being to go light on the cream cheese so that it doesn't detract from the delicate ingredients. The original creator of the California roll is disputed, with the first mention appearing in the Los Angeles Times on November 25, 1979.
Cream cheese and crab sushi roll 
Ingredients:
Sushi rice

Rice vinegar

Nori seaweed

Cucumber

Crab legs

Cream cheese

Ginger

Pickled onion
Another slightly different take on the California roll is the cream cheese and crab roll. This adds in a few extra ingredients, including ginger and onions. You'll also often find the nori on the outside of these sushi rolls, making them easier to slice and eat whilst appearing slightly more traditional. The crab is often mixed with the cream cheese, like you would when creating tuna mayonnaise. This pairs nicely with the sharper flavours from the ginger and onion. Sushi heaven! 
How to use cream cheese in sushi
So, now you know that cream cheese is a delicious addition to sushi, how might you go about adding this tasty ingredient to your next sushi dish? Remember, less is more. Whilst we all love the indulgence of some cream cheese, a little truly does go a long way…
Slice it horizontally 
The block of cream cheese is before you, your sushi is lying beautifully crafted next to you, waiting for the final ingredient, and the pressure is on. So, how on earth do you slice it? 
Always slice your cream cheese horizontally, because if you slice it vertically, you'll end up adding far too much cheese to your sushi roll, ruining the delicate balance of flavours and textures. 
Use small amounts 
As we've touched on previously, there truly is such a thing as too much cream cheese – trust us. As with all cheese, the rich flavour can be overpowering, so you want to be careful with the amount you add to your sushi. A thinly sliced horizontal line of cream cheese in your sushi is all you need to elevate your recipes to the next level.
Add ingredients with strong flavours to counteract the strong taste of cream cheese 
The last thing you want is to overpower your sushi with the strong taste of cream cheese. As fish and vegetables tend to be lighter in flavour, you want to add some stronger spices, salt and oil to your recipes to match the cream cheese. The more sushi you make, the better you'll become at identifying how much flavour to add. Plus, it gives you an excuse to use our complete sushi kit to create tasty dishes, time and time again.
Add ingredients with texture to balance out the mushy texture of cream cheese 
Cream cheese has a wonderfully creamy texture (no surprise there!) But one of the things that makes great sushi is the different textures you experience as you bite into a beautifully balanced dish. Make sure you even the creamy cheese out with the crunchy texture of cucumbers and other vegetables.
It's true: cream cheese goes with pretty much everything, including sushi! However, there is certainly a fine art to combining cream cheese with sushi and we hope our top tips help. Fancy giving homemade sushi a go? At Kelly Loves, our sushi making kits have everything you need to make glorious sushi.