What is ebi sushi & how do you make it?
When most people think of sushi, they think of high-quality raw fish, accompanied by a neat little ball of rice and tasty garnishes. Whether you're making sushi at home or satisfying your sushi craving in a restaurant, fish is usually on the menu.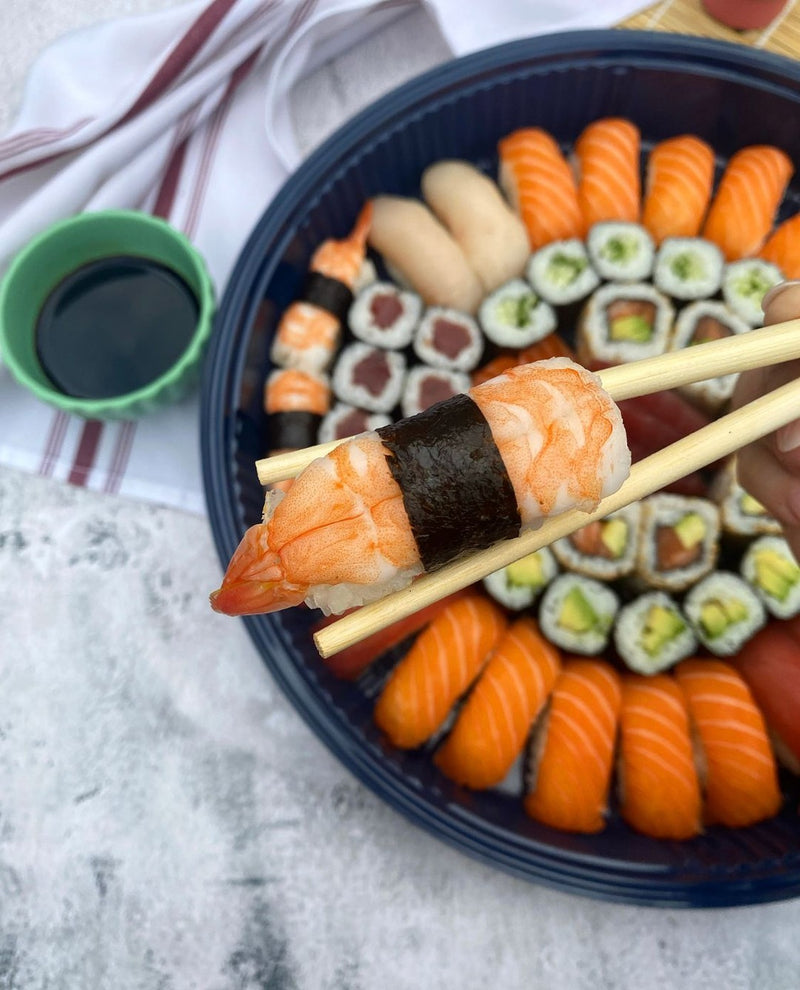 So what kind of fish is ebi sushi? 
Well (spoiler alert), it doesn't involve fish at all. No, "ebi" in Japanese usually refers to prawns (although it can also be crab or lobster). And if you combine prawns with sushi in the right way, your dinner guests will certainly be back for more.
What is ebi sushi?
So it's prawns instead of fish, but what's so special about ebi sushi?
As with most sushi, the star of the show is the topping. And when it comes to prawns, ebi sushi uses fresh, top-quality catches. It's because the prawns are so good that ebi can stand almost alone (or completely alone as sashimi) on a simple (yet tasty) bed of sushi rice.
There are various ways of cooking (or not cooking) the prawns, but they're almost always butterflied, with the tail left on for some decoration.
Is ebi sushi raw or cooked? 
Ebi prawn sushi, as it's sometimes known, uses both raw and cooked prawns. It all depends on where you're eating.
If you're wondering how to prepare raw ebi for sushi at home, it's vital that it's very fresh and handled properly. That way, there's no risk of somebody becoming unwell from eating the raw shellfish.
If, on the other hand, you're cooking it, there are various options: boiling, grilling or even baking it into tempura. Just make sure you don't overdo it and ruin the exquisite flavour.
How is ebi sushi served?
There are many different ways to serve (and cook) prawns in Japan. Some sushi dishes put the spotlight firmly on the prawns, while others complement them with more ingredients. 
Tempura
Tempura is simply battering and deep-frying food – almost any food. Eggs, carrot, squid, mushrooms, ray, pumpkin, crab: it all goes in the fryer and comes out tasting glorious. As you'd expect from Japanese cuisine, various types of fish are often involved.Although it's battered, the tempura shrimp mustn't be covered with too much batter. Just a light coating is best – that way you can taste the mouthwatering seafood underneath. Definitely something to remember if you're making ebi tempura sushi at home.
Nigiri
This is one of those methods of making ebi sushi where prawns are left to shine. Nigiri is a simple – yet high-quality – piece of raw seafood or meat, placed on a carefully hand-pressed ball of sushi. Other common nigiri ingredients include tuna, eel and squid, but prawns are always popular. And sushi soy sauce and wasabi are usually close by to accompany the nigiri, so remember to stock up on those if you're making it for guests.
Maki roll
Maki rolls are, without doubt, one of the most popular types of sushi around. With nori wrapped around rice and a filling at the centre, this is what most people would describe if they were asked what sushi is.
To fit your prawn into a maki roll, you'll need to chop it up into small chunks and then (perhaps) choose something to keep it company. Avocado and cream cheese are popular (if less traditional) choices for maki sushi ingredients. And you can make this delicious combination using a sushi making kit at home.
Chirashi 
Served in a bowl, chirashi sushi features raw seafood and vegetable garnishes. Shiitake mushrooms, gourd, carrots, snow peas and scallions are all commonly found in chirashi sushi, as are omelettes.
It's come to prominence because it's easier to make than some types of sushi, yet still substantial enough to leave you satisfied. If you're planning a sushi night, chirashi might be a great way to both surprise your guests and minimise preparation time.
Sashimi
Sashimi is not actually sushi at all.
Why? Because there's no rice – and vinegared rice is the defining feature of sushi. It's just thin slices of raw seafood or meat. But those thin slices pack a real punch…
It's often confused for minimalist sushi like nigiri because, like nigiri, it's beautifully simple. Using top-quality seafood (or meat) like Japanese prawns, sashimi takes all the distractions away. Only optional garnishes like pickled ginger and wasabi sit beside the main event.
What type of prawn is used to make ebi sushi?
When Japanese restaurants serve it in sushi, ebi prawns (also known as shrimp) can come in many forms. Just like those restaurants, you should use the freshest prawns you can find when you make ebi sushi at home, paying just as much attention to seasonality as you do to taste. After all, if it isn't fresh, your ebi sushi simply won't be as enjoyable.
Finding a particular type of fresh prawn in season near you isn't always easy, so here's a quick guide to the main varieties.
Kuruma shrimp
This is the classic shrimp used in high-end restaurants throughout Japan. It's not just that they're plump and succulent, but they also travel well: this is one of the only prawn species that can travel long distances without being in water.
Sometimes it's served raw, but it's usually boiled when served with sushi rice. In English, it's often referred to as the "Japanese tiger prawn". But it can be difficult to find in the UK.
Amaebi shrimp
This is one type of ebi that's definitely best enjoyed raw. Amaebi shrimp is renowned for its sweet taste, which can be lost if it's cooked. If you're looking for sushi dishes using amaebi shrimp, you might want to look for "sweet shrimp sushi" on the menu.
The freshest specimens of these small shrimp are clear and almost see-through. So bear that in mind if you're planning to serve raw seafood, which should be eaten only when it's at its freshest.
Sakura shrimp
In Japanese, "sakura" means cherry blossom, which is the national flower of Japan and a national obsession. Sakura shrimp owe their name to the sakura season, when trees across Japan come into bloom – and this type of shrimp is at its best. With their small size and slightly sweet taste, they're often found in soups and salads, but they also work well in sushi dishes.
Shiro shrimp 
Translating as white shrimp, shiro ebi are sometimes called snowball shrimp. But beyond their distinctive look, these shrimp are selected for their delicate, sweet flavour and firm texture.
To maintain those characteristics, shiro shrimp are usually served raw or lightly cooked – either as nigiri sushi or wrapped in a thin layer of nori.
Botan shrimp 
For a sweet taste combined with a slightly crunchy texture, the small botan shrimp is a fine choice. Lightly cooking it or serving it raw keeps the flavour intact. And that flavour is so highly valued that botan ebi sushi is usually saved for special occasions or served at high-end restaurants.
Unlike most other types of shrimp, people eat the (slightly salted or deep-fried) head and also the brain. Both are considered delicacies.
How to make ebi sushi, nigiri-style
First of all, the fresher the prawns you're using, the better the taste will be. Pre-cooked and deep frozen prawns will be much less tasty. And, of course, if you're planning on serving raw ebi, it has to be very fresh indeed. This is why many restaurants in Japan keep tanks full of live prawns. They're sometimes known as dancing shrimp, because they're either served alive or killed shortly before preparation.
If you're cooking the prawn, the first thing to do is skewer it. If you don't take this vital step, the prawn will curl up during cooking. Insert the skewer between the shell and the meat, keeping the shrimp straight and the tail facing away from you.
Once it's safely skewered, lower it into boiling, salted water. Opinions vary on how long you should boil ebi for, but three minutes is usually long enough, particularly for smaller prawns. Once they're bouncy and pink, they're cooked.
Next, place them in an ice bath. This cools them down rapidly, so they stay uber-fresh, but quickly become cool enough to handle.
When they've reached that temperature, take the legs and shell off, before you butterfly your prawn and remove the innards. Now your prawns are ready to crown your balls of sushi rice.
If you're cooking ebi sushi at home, there's a lot to consider. You might not be able to find the particular type of prawns you want your guests to try, because some varieties are mostly found in Japan. Then there's the question of whether to cook it or not, which must depend upon how fresh the prawns are. And, of course, you have to decide which style of sushi to pair your prawns with.
So, take your time and study the options: the distinctive flavours of ebi sushi are worth getting right.