What is kimchi ramen & how do you eat it?
 Kimchi's strong flavour comes from fermented cabbage, garlic and spicy red pepper. Blending kimchi with udon noodles is easy to prepare and makes a warming, hearty meal or a substantial snack.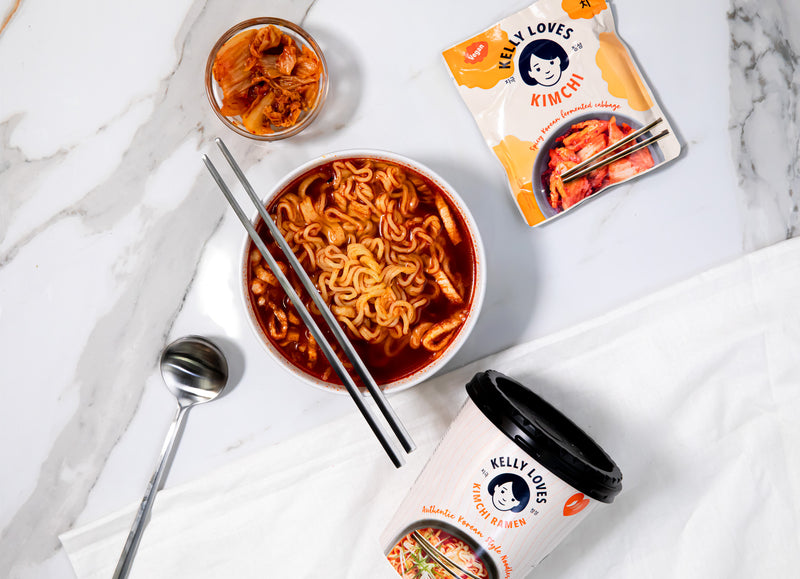 Kimchi is just so addictive: the moment you open a jar or sachet you'll keep on going back for another heavenly spoonful for that tangy hit. To get your daily kimchi fix, you can add it to just about anything. Kimchi is much juicier in a cheese sandwich than your basic ploughman's pickle. And a dollop of kimchi to elevate your burger? Just so good. But for an authentic combination, the classic dish is kimchi ramen noodles and it's superbly delicious. Let's find out more. 
What is kimchi ramen? 
Kimchi ramen is one of the most loved dishes in Korean cuisine, combining the prized and very moreish kimchi, with rich, Japanese umami-flavoured ramen. 
What is kimchi ramen made of? 
The main ingredients, as you've probably guessed, are: kimchi, ramen noodles and soup broth. You can also add: nori, tofu, mushrooms and spring onions, to further excite your taste buds. And if that isn't delicious enough, you can add a halved boiled egg on the top (most importantly: make sure the yolk remains gooey). Mmmh…we can just imagine those mouth-watering aromas…now onto the taste…
What does kimchi ramen taste like? 
We think that finding the words for a quick answer to 'what does kimchi ramen taste like?' is impossible, as it just won't do this Korean favourite justice (and writing words in this blog is our thing…) This is because there are many layers of flavour in kimchi ramen: sour and spicy from the kimchi, umami and salty from the broth, noodles and nori, sweet and savoury from a mix of extras such as vegetables, tofu and egg. If you want to know the answer to what kimchi ramen tastes like, you'll have to try it for yourself! 
How do you make kimchi ramen? 
Making kimchi ramen involves rolling your sleeves up over a hot stove, but it's not a difficult recipe to follow: 
Simply chop up the vegetables into thin slices (kimchi, spring onions, shiitake mushrooms). 

Then prepare the protein: cut up the tofu into bite-sized pieces and boil the egg until soft-boiled. 

After boiling beef or chicken stock in a large pan, you add the ramen noodles until they are soft.  

Now you're ready to add those thin slices of vegetables, tofu and kimchi, and season with ground red pepper. 

Once you've transferred some hot kimchi ramen to a bowl, garnish with the egg, nori and chopped spring onions before tucking in. 
Alternatively, for the same great taste but with super-fast prep, an instant ramen pot is quick and easy. 
What can you add to your kimchi ramen?
Meat 
Adding some good quality meat to your kimchi ramen will instantly make the meal even more substantial and will add to the richness of flavour. This is also really handy for using up meat from leftover meals that you may have in your fridge or freezer. Pre-seasoned, fried chicken thighs (with or without the skin) are a popular accompaniment to kimchi ramen in Korea. You can marinade the chicken thighs before you fry them in butter, honey, red pepper and lemongrass. Chashu pork (slow braised pork belly) is another great meaty addition in Korea. Stew the pork belly in soy sauce, mirin rice wine, sugar and rice vodka. Then simply lay out the tender sweet/salty pork slices to the top of the kimchi ramen. Heaven.
Wontons or gyoza 
Wontons or gyoza dumplings packed full of minced beef, spring onions and mushrooms are a popular side dish for kimchi ramen. They add a different texture to your meal to make it extra special.
Boiled eggs
We mentioned earlier that you can add a soft-boiled egg on top of your kimchi ramen, in two halves. But we have three top tips here for the perfect egg:
Firstly, use room-temperature eggs. If you use eggs straight from the fridge they can either burst or not cook evenly. 

Secondly, lower the eggs into the boiling water slowly — if you drop them in they may crack. 

Thirdly, boil the eggs for no more than 5-7 minutes. 
The fresher and runnier the egg, the better it is thought to be in Korea, so ideally prepare your eggs just before serving.
Vegetables 
Shiitake mushrooms will perfectly complement the kimchi cabbage flavour in the ramen. Soak the mushrooms for thirty minutes in warm water and remove the leg of the mushroom. Cut the mushroom caps up into smaller pieces if they are too large (if the mushrooms are dainty enough, leave them whole). Sauté the mushrooms in butter before adding them to the kimchi ramen. You can also explore adding lime and avocados to the ramen and topping it with crunchy, flakey nori.
We apologise if we've made your mouth water, but we hope that we've inspired you to try kimchi ramen (...is it lunchtime yet?). Luckily, our kimchi ramen noodles are available via next-day delivery if you have a craving! And if you want to know how to eat ramen to get the most out of the delectable flavours, we can help you with that too.