What is Omakase? A Guide to Japanese Dining
The fate of your meal is entirely in the hands of the chef. That's the essence of omakase dining. For those dedicated Japanese diners out there, you've likely heard of the word omakase. But it's often misunderstood to mean 'the dish of the day' or 'chef's recommendation' – omakase goes much further than this. If you want to experience the pinnacle of Japanese cuisine and go on a culinary adventure, then omakase needs to feature on your foodie bucket list.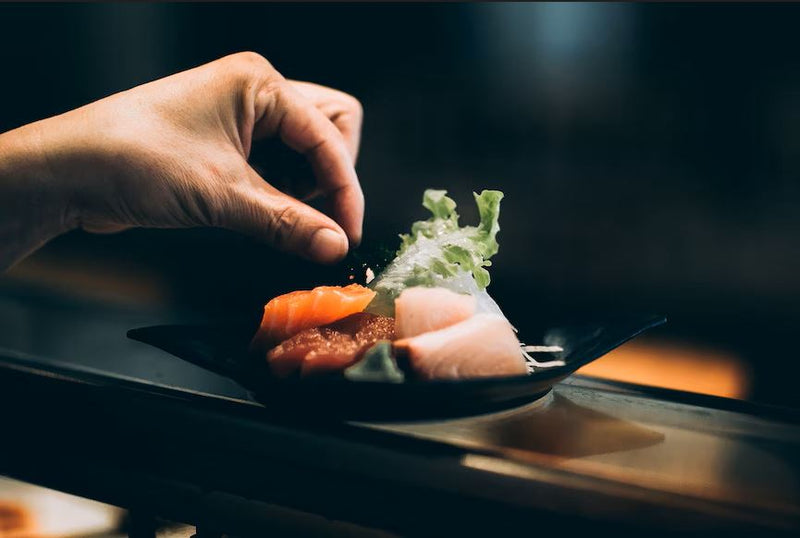 What is omakase dining? 
Omakase directly translates to: "I'll leave it up to you". And this is exactly what omakase dining entails, you're leaving your meal up to the chef who'll prepare any dishes they think you'll enjoy. Often, chefs will use the finest seasonal ingredients available, but the rest of the experience entirely depends on the philosophy and tastes of the chef. All you have to do is sit back, relax and enjoy the food. It's a dream come true for us indecisive menu-browsers who can never pick a dish and stick to it!
By sitting down for an omakase meal, you're relinquishing control of your food and passing the power to the chef. The selection of curated dishes is up to the professionals.
When was the omakase system introduced in Japanese culture? 
Omakase dining became popular in the early '90s when people in Japan were enjoying a boost to the economy. Suddenly, people had the opportunity to explore finer dining, but had no idea where to start. Sushi restaurants had a high barrier to entry, with it being difficult to know what to order. And so, omakase dining was born – for people to experience lavish dishes with the entire meal dictated by a professional chef.
However, omakase has also extended to all areas of Japanese culture, including fashion and hairstyles, if you're feeling brave! It's all about relinquishing control and trusting the professionals. 
Is omakase dining expensive? 
Having the chef's undivided attention doesn't always come cheap. In fact, plenty of Japanese omakase restaurants will only serve a maximum of 6 to 10 guests in one evening! Being such a personal occasion, omakase dining can be more expensive than other meals as you're also paying for the experience itself. 
A high-quality omakase meal will often set you back around £100-£200 per person. However, there are plenty of omakase restaurants that may have more affordable prices, including cheaper lunch menus. It's always important to double-check the price beforehand as some restaurants will only tell you the cost after you've eaten. 
Why is omakase dining so popular? 
Omakase dining is incredibly popular in Japan and in restaurants all over the world. The experience is one to remember and it can also take the stress out of ordering. And, of course, there's the incredibly high quality of food on offer…
Enjoy a unique experience 
If you're looking for a unique dining experience that you'll remember for many years to come, then omakase dining is definitely for you. Can you think of a time when you've seen the chef's face, let alone spoken to them?! Omakase dining breaks down these barriers and allows guests to see the chefs at work, communicating directly as they prepare your delicious meal. This allows for a uniquely personalised experience, where the chef may adjust his dishes to suit your personality and reactions after they ask you questions. 
You'll have the opportunity to learn more about the food you're eating and what ingredients are in season – from the experts. You'll feel truly connected to the food in front of you and you're sure to sample many new tastes.
High-class dining 
Omakase makes high-class fine dining accessible to more people. Sometimes, we might feel intimidated when entering a high-end restaurant and don't know what to order. Omakase removes this issue entirely, allowing you to relax and enjoy fine dining without the pressure of choosing complicated dishes. You don't have to worry about mispronouncing words or ordering the wrong bottle of wine. Instead, you can sample the finest sushi ingredients, exciting dishes and delicious wine, all specially picked for you. So, don't worry about your foodie knowledge and just give your taste buds a treat.
Enjoy omakase drinks matched with your meal 
Omakase dining isn't all just about the food: the drinks are just as important. After all, they're the ideal accompaniment to your meal. If you struggle to pair certain wines or drinks to your meal, you can ask for wine or cocktails to be included in the omakase experience, meaning experienced bartenders will also provide you with unique Japanese drinks to enjoy. Omakase cocktails are a fun way to explore your different tastes and experience drinks that delight your palate and complement the food perfectly.
Omakase is a magical experience and an absolute must for any Japanese foodies out there. You'll have the opportunity to taste dishes you'd never pick yourself, broadening your palate and helping you to discover new favourites. 
Why don't you set up your own omakase dining experience at home for a bit of fun? Invite your friends over and get them to sample the results of your home sushi making kit!