15 best sushi filling & topping ideas
One of the most exciting things about sushi is that the opportunities are endless, with so many tasty fillings and toppings to choose from!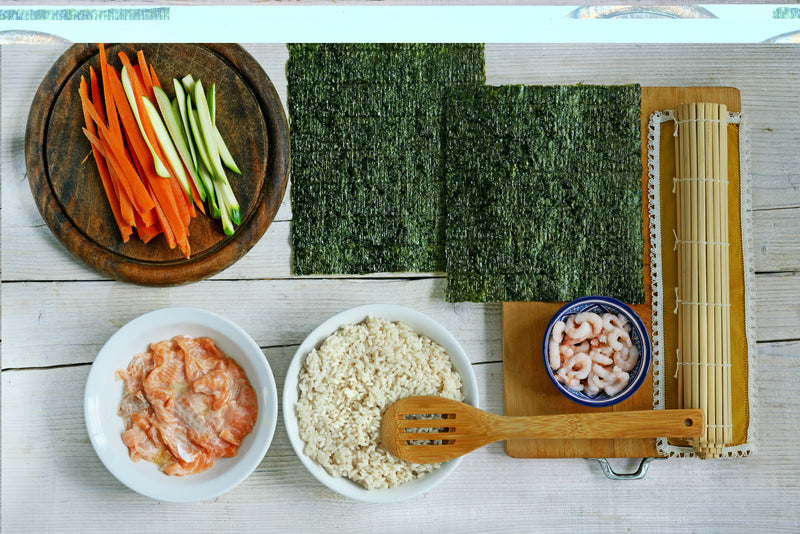 From rich and indulgent smoked salmon and cream cheese, to fresh and tasty crab and cucumber – there's something to satisfy every craving. And with sushi no longer being just a Japanese dish, there's a global selection of sushi ingredients to choose from. Here are some of our favourite fillings and toppings for sushi.
Sushi filling ideas 
Can't decide what to put in your sushi? You're definitely not alone. 
With so many yummy ingredients to choose from, it can be easy to not decide at all and end up thinking: all of them at once! Before you create a sushi roll so huge and full of so many ingredients that you set a world record, let's explore some classic fillings…
Sushi rice 
You might be thinking, "well, duh!" But the importance of good-quality sushi rice can't be overestimated. The rice is the foundation of your sushi and so it needs to be fine, short-grain rice. At Kelly Loves, our sushi rice is used by sushi chefs. 
If you've got high-calibre sushi rice, you're starting strong.
Avocado
For delicious, melt-in-your-mouth sushi, you've got to try adding avocado. It's tasty on its own, with cucumbers in a vegan roll, or paired with smoked salmon for sushi that's rich in omega-3 fatty acids. Avocado has a great taste and texture that pairs well with almost any ingredient.
Cucumber 
With so many soft and creamy ingredients going into sushi, it's easy to neglect the texture. This is a mistake if you're looking to create perfect sushi. Cucumbers bring a delicious fresh flavour to sushi, whilst adding that much-needed crunch.
Spring onions
Spring onions are an excellent palate cleanser and could be the ideal addition to your next sushi dish. They add some freshness and tang to the otherwise subtle flavours. This is a great way to balance out the flavours, making sure that one doesn't take over.
Cream cheese
Cream cheese in sushi is truly a match made in heaven. Yes, it might not be the most traditional sushi ingredient, but it's certainly a good one! It adds some rich, creamy indulgence to your sushi and complements smoked salmon wonderfully. 
Fresh fish
Fresh fish is what completes your sushi dish. It pairs beautifully with vegetables, mayonnaise and/or cream cheese. Sushi-grade tuna can be eaten raw and makes a meaty but fresh addition to your culinary creations. Other common fish used in sushi include: scallops, clams, seabass and snapper.
Smoked salmon
Smoked salmon has become one of the most popular sushi fillings and it's easy to see why – because it's delicious. It's also readily available in all supermarkets, making it accessible to all sushi lovers. When paired with cucumber and cream cheese, it's sushi paradise. 
Prawns 
For those that can't stand uncooked fish or fancy trying something a bit different, prawns are a wonderful filling in sushi. Nigiri prawn sushi is extremely popular, featuring a ball of cooked rice with a butterflied prawn sitting on top. Or mix prawns with mayonnaise as a filling for a sushi roll.
Sushi topping ideas 
But wait, we aren't done yet! The toppings below are some of our favourite additions to sushi. Think of them as the cherry on top of your beautiful sushi cupcake. The final finishing flourishes to your masterpiece. You get the idea…
Thin slices of fish 
What better way to finish your beautiful roll of sushi than with a delectable thin slice of fish? This indulgent topping adds some richness to your sushi and is a popular finishing touch. Thin slices of tuna and salmon are commonly placed on top of sushi rice to make a tempting bite.
Masago 
Masago is capelin roe (fish eggs). And capelin is a small fish found in the Atlantic and Arctic oceans. It often tops sushi as a pile or else the sushi is rolled in eggs to coat the outside of the rice. Masago is usually a dull yellow colour, but is dyed brighter orange when on sushi. It has a mild flavour, but adds a nice texture to your rolls. 
Sesame seeds
Black and white sesame seeds are often used as toppings on sushi rolls. Not only are they pleasing on the eye, but they also add a nice crunchy texture to the exterior of the roll. If you lightly toast the seeds beforehand you'll bring out their nutty aroma and flavour. 
Crunchy onion
Texture is so important when creating your perfect sushi dish, which is why onion is such a popular topping. Fried crunchy onion adds the most satisfying crunch when you bite into the sushi. Paired with a sweet and salty flavour, it's a truly inspired topping. 
Pickled ginger 
Want to add some extra flavour to your sushi? Then pickled ginger is the perfect topping. Our sushi ginger creates a wonderfully warming edge to your sushi that awakens your taste buds without overpowering the other flavours of the sushi. It's also a great palate cleanser between different types of sushi.
Soy sauce 
Sushi soy sauce is packed with umami flavour that perfectly seasons all kinds of sushi. You can sprinkle a little sauce on top and have it on the side as a dipping sauce for sushi. The salty and savoury tang contrasts nicely with delicate fish and rice. 
Wasabi paste 
Some like it hot and if you're one of those people, then wasabi paste is your dream sushi topping. The authentic Japanese condiment is made from the wasabi plant. It marries herbal, fresh flavours with warming heat, adding some excitement to your next plate of sushi.
We hope we've made your next sushi decision much easier with our rundown of the best sushi fillings and toppings. Want to try them all? Then our sushi making kits are a great way to get started – with everything you need to craft your sushi masterpiece.