Cherry blossom season in Japan and Korea
Cherry blossoms are a HUGE deal in both Japan and Korea and it's easy to see why. We're attracted to beautiful things. Nature fills our senses and triggers those happy brain chemicals. And experiencing the beauty of nature and capturing it in photos allows us to reflect back on a blissful, fleeting moment. Blossom trees also signify the coming of spring after a long, cold winter — and that feels uplifting!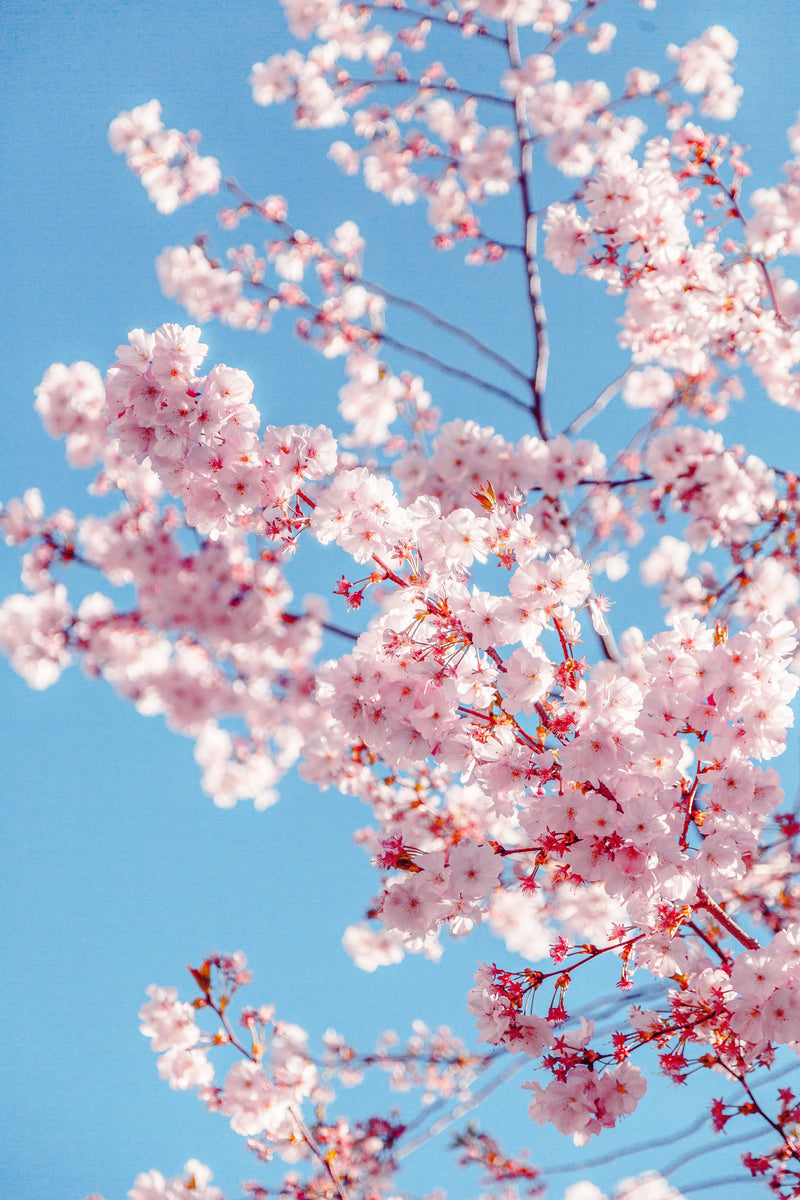 Way back when, humans would see springtime as being linked to increasing food supplies (kimchi, a big part of Korean food culture, was invented to get through the long harsh winters). Nowadays we don't have the same food-related relief as we approach spring, but we like to feel the warm sunshine again and seeing the spring flowers start to bloom makes us feel good. Visiting a cherry blossom festival is on many people's bucket lists. So here's some info on the outdoor celebrations that you can join for the trip of a lifetime. 
What is the hanami cherry blossom season in Japan?  
'Hanami' means 'flower watching' and it's the annual celebration of cherry blossom (sakura) in the spring. You'll have seen the avenues of cherry blossom trees in photos of Japan as cherry blossom season is one of the most popular tourist attractions. The cherry blossom creates light fluffy pink and white canopies which form archways when the trees are close together, the petals gently 'snowing' down from the branches in the warm breeze. 
During the Hanami cherry blossom season, people sit beneath the blossom trees to eat, drink and socialise. Families, friends and colleagues all gather. Offices take a break with sushi bento lunch boxes prepared, often with a junior member of staff being tasked with reserving a space for the office beneath the trees. Picnicking spaces can be hard to come by as it's so popular! You have to find a space early and reserve it with a picnic blanket quickly. As the evening comes, viewing the cherry blossoms is called ' yozakura' and lanterns and fairy lights are dotted amongst the trees as the celebrations become louder with more of a party atmosphere. Along with typical Japanese food and drink, there are hanami-themed treats to buy from food stalls such as cherry blossom Ramune and pink KitKats!
What is the beotkkot cherry blossom tradition in Korea? 
The Korean cherry tree (the King Cherry variety) originates from Jeju Island, but the Japanese Yashino cherry blossom is more common. In Korea, the cherry blossom viewing is known as the beotkkot season. The Korea Meteorological Administration releases its forecast of when and where the cherry blossoms will appear. They start the predictions in early March. When the buds bloom into gorgeous floral displays, the festivities begin with concerts, parties…and even a cherry blossom marathon! 
The most famous cherry blossom festival in Seoul is the Yeongdeungpo Yeouido Spring Flower Festival (also known as the Yeouido Cherry Blossom festival). There are food stalls with Korean snacks, street entertainers, exhibits — so many different activities, alongside viewing the cherry blossoms. If you have kids with you and you want to reward their patience as you take photos of them standing in the cherry blossom, there's an amusement park right there. In the east of Seoul, Lotte World fun park is right by Seokchon Lake, so you can take stunning photos of the blossom trees reflected in the lake and then have an afternoon enjoying the rides! 
What is the difference between the beotkkot and hanami cherry blossom festival? 
There's debate about where the cherry blossom festivities and trees originated from: Japan, Korea…even China enters the debate! But despite the similarities in the natural cherry blossom trees in Japan and Korea, the organised viewing of them and eating beneath them, you can explore the different countries and different cultures alongside viewing the floral displays. And of course, the warmer weather brings the need for food and drink refreshments which differs depending on where you are. In Korea, you can eat a bowl of cherry blossom bingsu (a popular Korean dessert) and in Japan Sakura cherry blossom ramune soda will refresh you!
In Korea, tourists go to Jeju Island as the blossom there is unique (more of a vibrant colour, with larger petals). Yellow Canola flowers also bloom at the same time so the island is awash with floral colours. 
When is the cherry blossom season in Japan and Korea? 
The best time to see cherry blossoms in Japan and Korea is during the spring months from the end of March to mid-April. However, some blossoms can start blooming in January and others reach full bloom in May. So planning trips to visit specific areas can be tricky. Luckily, the JWA (Japan Weather Association) and the Korea Meteorological Administration release forecasts you can follow!
How is the cherry blossom festival celebrated in Japan and Korea? 
Cherry blossoms have different symbolic meanings in Japan and Korea. In Japan, they are a reminder that life is fleeting, and your destiny is written, reflected in the short time that the blossoms bloom. Cherry blossoms are Japan's national flower so you'll see them as a symbol on everything; from sports teams to tattoos! Hanami is an important part of Japanese culture where people will sit underneath the trees having picnics and drinking saké.
In Korea, cherry blossoms are seen as a symbol of beauty and purity and in K-pop culture as a symbol of love. Beotkkot in South Korea offers lots of different festivals in different locations with street performers, exhibitions and food stalls.
Why should you visit the Cherry Blossom Festival? 
The breathtaking beauty of the cherry blossom flowers is the main reason to visit! No one does it like Japan and Korea! The blossom trees arching over rivers and bridges is just exquisite and something most of us want to experience in our lifetime. Add to that the parties, lanterns, twinkling lights and celebrations beneath the trees and it's an enchanting experience, one you'll never forget.
The National Cherry Blossom Festival in Japan remembers the gift of 3,000 cherry trees from Mayor Yukio Ozaki of Tokyo to the city of Washington, DC, in 1912. The festival today welcomes 1.5 million people and lasts for four weeks. Most events are free and open to the public. A Japanese tea ceremony beneath the trees is particularly magical.
Where is the best place in Korea to see cherry blossoms? 
Jeju Island 
Jeju island is a favourite place to see pink blossoms in late March as it combines blossom trees with being by the sea. And in this seaside location, you'll also see the biggest blossoms - the King Cherry variety (these bloom for two or three days in early April, very specific timing!)
Jinhae
Around early April, Jinhae has a ten-day cherry blossom festival with musical productions and military band parades. It's the biggest blossom festival in Korea, with over two million visitors! You'll be able to meander along riverside paths taking in the sight and sweet aroma of the romantic blossom trees, the vibrant street food and the colourful murals. 
Seoul
Of course, we have to mention Seoul here! Thousands of cherry blossom trees in Seoul in early April mean that festivals take place all over the city with fireworks that light up the night sky. Changgyeonggung Palace offers other flowers to see as well as cherry blossom trees. And watch masses of petals floating on the water at Seokchon Lake Cherry Blossom Festival or visit the popular Yeouido Spring Flower Festival.
Where is the best place in Japan for celebrating the cherry blossom season? 
Tokyo
There are so many cherry blossom locations in Tokyo and you can explore the city at the same time! A 4 km sweep of cherry blossoms is illuminated from 5pm to 9pm in late March. And take the Sagano Scenic Railway through a tunnel of blossom trees! Or to avoid the crowds, sneak off to the English Garden in Shinjuku Gyoen and picnic on the lawn. And for a spectacular sight, check out the Chidorigafuchi Moat (not far from the Imperial Palace). Prepare to be wowed! 
Mount Fuji
For a breathtaking shot of blossom trees with Mount Fuji as a backdrop, head to the Fuji Five Lakes in mid-April where there are so many viewing points. The Chureito Pagoda is a pagoda in the hills which seems to float in a sea of cherry blossoms (heaven on earth!). The northern shores of Lake Kawaguchiko take in the cherry blossoms with the backdrop of Mount Fuji….but there are many, many more.
Viewing the cherry blossom season is on many people's wish lists. But if you can't get there this spring, why not recreate your own UK cherry blossom festival and bring along some Japanese and Korean food and drink? Make some sushi at home using our high-quality sushi kits, pack up a bento box, include some authentic Korean drinks and head to one of the UK's best cherry blossom spots with a picnic blanket. Ranging from bright bubblegum pink blossom to hazy pale pink candy floss colours, there are so many to choose from: Kew Gardens, London, Dunster Castle, Somerset, The Stray, Harrogate, Cathays Park, Cardiff, The Meadows, Edinburgh…the list goes on. Sitting under a blossom canopy while the petals fall as you eat authentic food, is anything more blissful…?