Traditional Korean desserts to make at home
Pudding! There — we got your attention. Eating something sweet just makes our day a little better. A few bites of dessert after a meal really hits the spot and makes us happier human beings. But when we think about making Korean cuisine at home we might not immediately think about Korean desserts.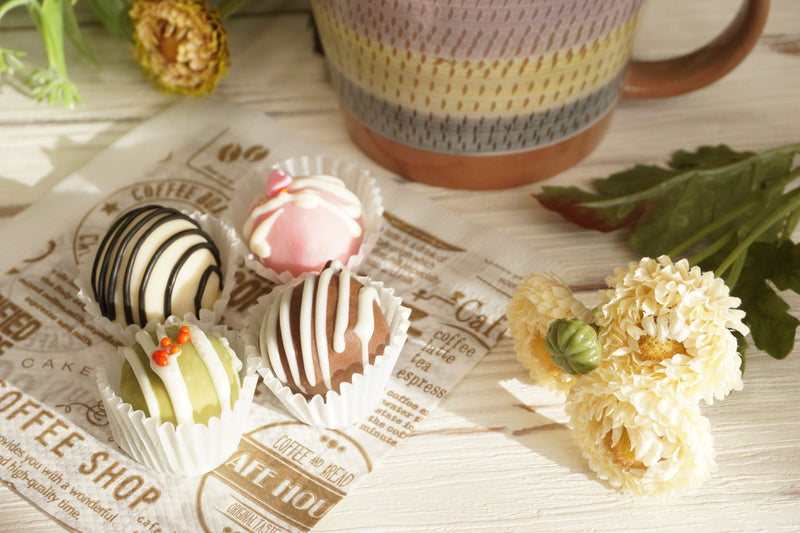 Maybe the unique nature of Korean desserts makes them seem inaccessible. Perhaps you have only ever tried a small selection in a Korean restaurant. Let's run through some easy Korean desserts that you can make at home.
What are the best traditional Korean desserts? 
Korean desserts are usually eaten as a snack or as a treat after dinner. They often include ingredients such as Korean fruit, rice flour and red bean paste. The best traditional Korean desserts are served during special events like the harvest festival of Chuseok or the Korean lunar new year.
Korean shaved ice (bingsu)
Korean shaved ice (bingsu) is the most popular traditional Korean dessert. 
The favourite is called patbingsu, which is ice shavings with red beans. Ice shavings do sound rather bland (!) but it's the creative toppings which make this dessert so delicious. Today, there are many toppings for bingsu — even Oreo bingsu! 
The ingredients for bingsu:
400g ice cubes

2 tbsp sweetened condensed milk 

2 tbsp sweet red bean paste

45g thinly sliced kiwi

45g chopped pineapple

45g blueberry

80g chopped strawberry

16 mini sweet rice cakes (mochi)
How to make bingsu at home:
Chill a serving bowl in the fridge.

Grind the ice cubes in a food processor until you have a smooth texture. 

Put the ice shavings into the chilled bowl and put the mochi, red bean paste and some fruit on top. 

Pour over the sweetened condensed milk to taste.
Korean sweet rice cake 
This is a sweet treat to have dipped in honey with a cup of tea!
The ingredients for Korean sweet rice cake:
300g sweet rice flour 

1 tsp salt

310ml water 

2 tbsp sugar

60g roasted soybean powder 

Half a tsp sugar

Soybean powder to coat the rice cakes 
How to make Korean sweet rice cake at home:
Spread the soybean powder across a baking tray with your hands. Sprinkle the sugar and salt on top of that.

Add the sweet rice flour to a microwavable bowl. Mix with a whisk.

Add the water and mix with a spatula until no dry flour can be seen. 

Cover with cling film.

Cook in the microwave on high for 2 minutes. When you take it out of the microwave you will see the top layer is cooked. Mix it up so the top layer goes to the bottom and the uncooked mixture is now on top. Cover and microwave again for 2 minutes.

Dip a spatula in cold water and mix a couple of times. Repeat this process for 2-3 times. 

Create a rice cake by using a spatula to mould it and put it on the baking tray. Press the rice cake down to spread it out across the tray. 

Put more soybean powder on the top of the cake.

Cut the cake into small squares, covering the sides with soybean powder. 
Sweet rice punch (sikhye) 
This Korean dessert drink is usually made for celebrations. If you have a sweet tooth you'll love this and it's a favourite with Korean children too. It takes some getting used to to see rice in a drink if you haven't before!
The ingredients for Korean sweet rice punch:
550g milled malt barley

2.4L water

250g short grain rice

250g sugar 

Mint leaves, dried dates, pine nuts or yuzu jelly to garnish.
How to make Korean sweet rice punch at home:
Soak the crushed milled malt barley in warm water for 1 hour and strain it.

Leave the strained barley water for 3 hours and you will spot white sediments collecting on the bottom of the bowl.

Cook the rice in a rice cooker or double boiler pan. 

Add the top liquid part of the malt barley water to the rice (just enough to fully cover the rice). 

Keep the rice and malt barley liquid mixture warm for around 5 hrs or more until a few rice gandules float to the top.

Pour the rice and liquid into a large saucepan and add the sugar.

Boil for 10 minutes. 

Traditionally, pine nuts and dried dates are used as garnish, but you can also add spoonfuls of

yuzu jelly

before serving to add a citrus zing. 
Korean sweet pancakes (hotteok) 
If you have an exceptionally sweet tooth, you'll love Korean sweet pancakes. With a crispy, doughy outside and an oozy cinnamon syrup inside, you'll be in heaven. It is believed that hotteok was invented in the late 19th century. These delectable pancakes are now sold from street carts in Korea in the winter. The sweet cinnamony aroma fills the street air and the hot oozy pancakes warm up cold and hungry customers.
The ingredients for Korean sweet pancakes:
For the dough
130g plain flour 

3/4 tsp salt

1 tsp sugar

1 tsp instant dry yeast

160g sweet rice flour 

Approximately 6 tbsp water for yeast solution

180 ml water 
For the filling
125g Demerara sugar

A handful of chopped walnuts 

1/2 tsp cinnamon powder
How to make Korean sweet pancakes at home:
Add 1 tsp dry yeast and 1 tsp sugar to 6 tbsp water.

Mix the two types of flour and the salt in a bowl.

Mix yeast, sugar and 180ml of water with the flour and mix until a sticky dough.

Let the dough sit for 3 hrs at room temperature. The dough will double in size.

Then mix up the sugar, cinnamon and chopped walnuts for the filling.

Take a golf ball sized amount of dough in your hand and spread out with your fingers until it's a little bigger than your palm. 

Add 1-2 tsp of the mixed up filling into the centre of the dough and fold it over to make a parcel.

Put the dough parcel into the frying pan with the smooth side up (the side facing your palm).

Press on the dough in the frying pan with a spatula to flatten it out into a pancake (but don't press too hard or you'll lose the filling!)
Sweet red bean porridge
Porridge on a dessert list? To explain: sweet red bean porridge doesn't resemble our regular Quaker Oat variety in any way. This velvety, creamy, smooth porridge is a touch sweet with a bit of a nutty flavour. It's made from dried adzuki beans ('pat' in Korean), but the texture is not thick like you imagine a porridge to be. And the dessert includes rice cake balls in the porridge made from glutinous rice flour.
The ingredients for sweet red bean porridge:
For the porridge
250g adzuki beans
1 tbsp glutinous rice flour (aka sweet rice powder or chapssal garu)
2 tbsp sugar 
1 tbsp honey 
A pinch of salt
For the rice cake balls
125g glutinous rice powder 
2 tsp sugar
4 tbsp boiling water
A pinch of salt
How to make Korean sweet red bean porridge at home:
Boil the beans in a pan and drain them.

Put the beans back into the pan with fresh water.

Cover and simmer for about an hour.

Let the beans cool and then purée them with the cooking liquid.

Put the purée back into the saucepan and add one tablespoon of sweet rice powder along with the sugar, honey and salt.

Simmer on a medium heat uncovered and stir for about 10 minutes. 
For the rice cake balls
Mix the rice powder, sugar and salt in a bowl. Stir in the boiling hot water 

knead until a dough is formed.

Shape the dough into a cylinder. Cut off pieces from the cylinder and roll into balls.

Add the rice cake balls to a pan of boiling water. Cook until all the balls float. 

Serve porridge adding a few rice balls to the porridge mix. 
Korean mochi 
Koreans are famous for traditional dishes that take days to cook. But if you have a busy life you don't have to use the long traditional cooking methods to match. Cooking Korean mochi in a microwave will make things quick and easy!
The ingredients for Korean mochi: 
180g sweetened red bean paste shaped into 6 balls

25g cornstarch

60g castor sugar

3 tbsp cornstarch

A pinch of salt

120g water 
How to make Korean mochi at home:
Mix the sweet rice flour, sugar and salt in a microwave-safe mixing bowl and then mix in the water. 

Cover the bowl with cling film allowing a hole for the steam to escape.

Heat for 1 minute in the microwave.

Take the bowl out and give it a stir.

Pop the bowl back into the microwave for another minute (heat for more time if the consistency doesn't look right).

Stir the mixture with a wooden spoon until it is cool.

Dust corn starch on the board.

Put the mochi mixture on the board and knead it. Divide it into 6 pieces. 

Flatten and open the dough ball in your hand so you can add the ball of red bean paste. 

Put the red bean paste in and seal the dough up with your fingers.

Roll the mochi in the cornstarch and put in a cupcake wrapper smooth side up.
Matcha green Korean tea cookies (dasik) 
These are 'no bake' cookies, a phrase we love to hear when we are busy! Korean tea cookies are fit for royalty: they were served with traditional korean tea during the Silla period and the Goryeo dynasty. Joseon Dynasty records show that when a royal banquet was held, the tea cookies were piled high on the tables to make a visual impact (how many you make depends on your time!).
To achieve the famous ornate embossed patterns on the cookies you'll need a dasik mould. You can buy these on the internet (or a beautiful wooden mould from Korea if you are lucky enough to visit). Alternatively you can use regular biscuit cutters. The matcha tea cookies are made with fine matcha powder, perfect for a sweet snack.
The ingredients for Korean matcha green tea cookies: 
3 tbsp roasted rice flour
1 tsp matcha powder
1 pinch sea salt
2 tsp powdered sugar
1.5 tsp water
2 tsp honey 
How to make Korean matcha green tea cookies at home:
Put the matcha powder, sugar, rice flour, honey, salt and water in a bowl and mix together.

Lumps will start forming as you mix so that you can eventually gather the dough together.

Either roll the dough out and use small, dainty biscuit cutters to make the tea cookies or use a traditional mould. As they are not baked, they are now ready to eat!
Korean desserts are as delicious as they look: a delightful treat for all your senses, with a mix of different flavours, colours and textures. They look incredibly decadent, but as you can see from the recipes above, they can also be quick and easy to make in your own home.