Is Korean kimchi good for you?
Kimchi is a Korean side dish typically consisting of salted and fermented vegetables, including napa cabbage, onion, radishes and seasoning. It can also contain fish or meat. It has been a staple in Korean kitchens for generations. In fact, there are around 400 versions of kimchi in Korea, all fermented and all quintessentially Korean. There is an emotional link too: for many Koreans, the distinctive taste of kimchi reminds them of their childhoods — the ultimate comfort food.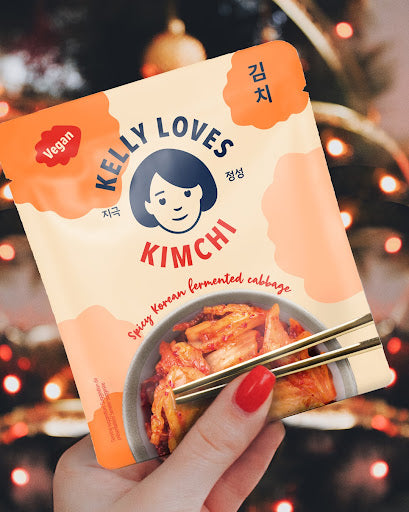 The traditional way to make kimchi is to bury ceramic jars of salted cabbage underground, which sounds a bit of an effort. Thankfully, it's easier to make now, but even so, it takes a lot of fine chopping action in the kitchen and weeks of fermenting. Luckily, you can buy restaurant-quality kimchi imported directly from Korea, in a handy pouch through Kelly Loves. Phew! 
What are the health benefits of kimchi? 
Low in calories, high in nutrients 
There are so many different varieties of kimchi, that the amount of nutrients in the kimchi will vary. But there's no doubt that kimchi is simply supercharged with nutrients. It's sure to contain:
✔ Vitamin B6
✔ Vitamin C 
✔ Vitamin K 
✔ Folate
✔ Iron
✔ Niacin
✔ Riboflavin
As kimchi contains green vegetables such as cabbage, spinach and celery, it's usually high in vitamin K which helps to make proteins that are needed to build bones and for blood clotting. Kimchi green vegetables also contain riboflavin, which helps regulate metabolism, cellular growth and energy production. And for a nutritious helping hand, the actual fermentation process may cultivate even more nutrients that are more easily absorbed by your body. 
Improves digestive health 
Kimchi contains lactobacilli bacteria, a 'good bacteria' or probiotic which helps to improve digestive health. These probiotics can help to manage the symptoms of colon inflammation and irritable bowel syndrome (IBS). But even if you don't have any digestive health problems, probiotics will support a healthy gut flora and this serves to improve your general health.
Supports your immune system
A lot of immune system function takes place in the gut, so the probiotics in kimchi are beneficial for your immune system, as well as your digestive system. When you have a good balance of bacteria, your immune system will function at its best. The vitamin C content in kimchi will also boost your immune response. 
May reduce inflammation
Another potential benefit of the probiotics and active compounds such as HDMPPA in kimchi is that they may play a large part in helping to reduce inflammation. There have been many studies proving this with mice, but there needs to be more human studies. 
May boost your heart health
Studies have found that kimchi may boost your heart health due to its anti-inflammatory properties and the possibility that it decreases cholesterol levels and suppresses fat growth, but there needs to be more research to back this up further.
Is it safe for everyone to eat kimchi? 
Kimchi is safe to eat, unless you have specific food intolerances. Some people find they are sensitive to ingredients like garlic, chilli powder or onion. However, one safety issue that kimchi has been linked to in the past is food poisoning, namely E. coli and norovirus. If you ensure that you purchase your kimchi from a reputable source and make sure that you store the kimchi as per the instruction or freeze kimchi properly, then any risk will be minimised. Kelly Loves kimchi is used by our chefs and is restaurant-quality. It is sold in plastic pouches to better protect the flavour and nutrients ensuring that it remains the highest quality.
The health benefits of kimchi are plentiful; a true Korean superfood. Kimchi has become uber-cool in the UK due to an increasing interest to eat foods that look after our health. Eating kimchi is an easy way to support your gut health and immunity and up your intake of delicious vegetables. Plus, it's low-calorie, so it can add a welcome hit of spice and umami when you are looking for something both guilt-free and flavoursome. 
Whether it's straight from the pouch alongside plain rice, with some udon or fried rice, tasty kimchi ramen noodles, in a dip, in a stew, stirred into some tofu miso soup…even on top of your burger as a BBQ condiment — you can find a fun way to eat your kimchi! Or perhaps you sneak it onto a spoon if you like a spicy hit when you are exploring the fridge for the millionth time (we see you). Anything goes. Warning: if you haven't tried kimchi before, you might just get hooked!