8 popular Korean side dishes
Diverse and delicious side dishes are routine in Korean cuisine. Whilst Japanese meals focus on one main dish, there are an array of tempting little side dishes to choose from at Korean mealtimes. Most people focus on the main course when visiting a Korean restaurant, but Korean side dishes mustn't be overlooked. So we are dedicating this blog post to eight side dishes, packed full of flavour and equally as delicious as the mains. Although Korean side dishes are habitual, they are anything but ordinary!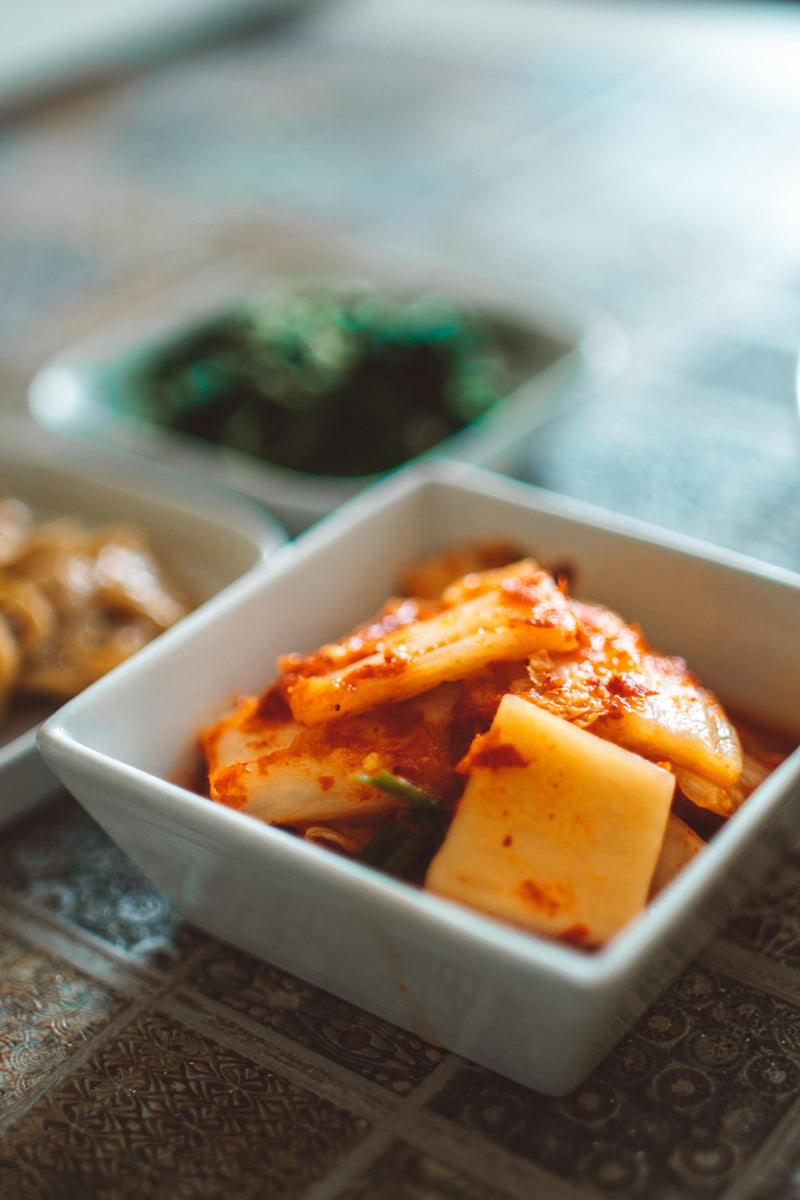 What are the most popular Korean side dishes? 
Firstly, a bit of info about 'banchan'. Banchan are Korean side dishes (usually served in little bowls) and they are iconic in Korea. They are served at every meal, and everyone shares them around the table. The lovely thing about Korean banchan is that they are not only supremely delicious, but also really easy to make. So if you aren't known for your skills in the kitchen you'll be able to rustle up these tasty gems in a jiffy. Here are eight Korean side dishes to inspire you, but there are so many more recipes that you can try.
Spicy cucumber salad (oi muchim)
A cucumber side dish is ideal, because it offers a bite of something light and refreshing if the main course is substantial, and this cucumber salad has an added spicy kick. To make your Korean spicy cucumber salad, follow these easy steps:
Peel and slice the cucumber and then salt the slices, leaving them to draw out excess water. This prevents the dish from becoming too watery and gives the cucumber an extra crunch. 

Next, combine the cucumber with the seasoning ingredients and mix well (a splash of

soy sauce

, red chilli flakes — gochugaru, chopped spring onions, garlic, vinegar, sugar, sesame seeds and sesame oil). 
Spicy Korean rice cakes (tteokbokki)  
Spicy Korean cylindrical rice cakes are probably the most popular street food in Korea and also a favourite side dish. They provide a dreamy carb fix (much like gnocchi) but with a thick, savoury, sweet, spicy sauce which they soak up like a sponge. Follow these simple steps to make this heavenly side:
Start by soaking the rice cakes in warm water to soften them (unless they are soft already). 

While the rice cakes are soaking you can quickly whip up the sauce. Mix together: gochugaru, gochujang, sugar, garlic and soy sauce. 

Stir the sauce into a pan of anchovy stock and simmer. 

Add the rice cakes and continue to simmer until the sauce reduces. 

Dish some rice cakes into a serving bowl and garnish with sliced spring onions, toasted sesame seeds and a drizzle of sesame oil. Mouth-watering and totally addictive!
Sweet and sour radish salad 
We think it's a bit sad really, but radishes have been relegated to the role of garnish of late; rather dry looking radish flowers you don't consider eating. But by overlooking the radish you're missing so much! This Korean side dish focuses on the humble radish, providing sweet and sour flavours when mixed with the seasonings. 
Cut the radishes into fine matchsticks.

 Mix the radish sticks with all the ingredients for seasoning: sugar, vinegar, salt and gochugaru (optional spice). 

Let the salad sit before serving — it'll taste even better the next day with all the flavours absorbing. 
Gamjajeon pancakes 
Gamjajeon (gamja jeon) is a type of Korean savoury pancake (jeon) made with ground or grated potatoes. This hearty side dish only requires a few simple steps:
You need to remove some of the water content from the potatoes as you grind them in a food processor or grate them so that the pancake batter isn't too watery. 

Keep the drained potato water as it contains starch which sinks to the bottom. 

You can use the starch in the batter by carefully pouring out the water.

Transfer the drained potato to a bowl and mix it with some grated onion. 

Add the starch and salt to the bowl and mix. 

Once the gamjajeon pancake batter is fully mixed, add it to a frying pan and fry like you would a regular pancake.
Korean bean sprouts (kongnamul muchim)
Korean bean sprouts are one of the most popular side dishes, so you're likely to see them being served in a Korean restaurant. It is also an ingredient for bibimbap (Korean rice bowl). 
First, rinse the soybean sprouts with cold water and discard any rotten sprouts. 

Add water, soybean sprouts and salt to a lidded pot and heat over the stove on medium-high for 7 minutes (don't remove the lid during that time, it'll spoil the flavour). 

Drain the sprouts and transfer them to a serving bowl. 

Add garlic, salt, chopped spring onions, black pepper and sesame seeds. Serve warm or cold.
Korean spinach (sigeumchi namul)
Yet another dish which is easy to make, Korean spinach is simply blanched spinach with tasty seasoning. Known as 'sigeumchi namul', sigeumchi means spinach and namul means seasoned vegetable. There are so many namul dishes in Korea that it makes you wonder why we don't do this in the UK. It makes a healthy diet full of a variety of vegetables a lot more appealing! Korean spinach is another side dish that you'll see added to bibimbap and it's easy to make: 
Firstly, trim the spinach roots and blanch them in boiling water for 20 to 30 seconds. 

Top tip: after you have promptly drained the spinach, 'shock' the spinach in ice water to stop it from overcooking. 

Drain the spinach again and then mix it with: garlic, sugar, sesame oil, sesame seeds, soy sauce, chopped spring onion and gochujang (optional spice).
Kimchi
Ah, kimchi! Now, this is one side dish which has greater fame than the main dishes! We couldn't have a Korean side dish list without this delicious probiotic powerhouse! We know we say this a lot, but wow, kimchi is addictive, once you get the kimchi bug, you can't stop eating it. Plus, there's loads of health benefits of kimchi. So no wonder that it is served with every meal in Korea (that would make us happy too!) It's a bit of a faff to chop up all the ingredients when making kimchi, so many of us opt for a shop-bought sachet. But if you want to make your own kimchi, here we go: 
Cut 2 Ibs. of napa or green cabbage into squares. Put some big outer leaves to the side (we'll come back to those…). 

Shake salt over the pieces of bite-sized cabbage then let the cabbage wilt for 2 hours at room temperature. 

Rinse and drain the wilted spinach to remove the salt. 

Blend: garlic, ginger, gochujang and one apple to make a paste. 

Pop the paste in a bowl and put it in the fridge.

Add the cabbage and some finely chopped 'matchstick' carrots to a large bowl. Add some chopped-up spring onions.

Mix the vegetables together and then add the paste from the fridge, wearing gloves to mix it with your hands (or the chilli will burn your fingers!). 

Pack it all into mason jars. 

Remember the outer cabbage leaves on the kitchen side? We need those now: add them to the tops of the jars to keep the chopped vegetables submerged in the paste. 

Then add a tiny bit of water to the top of each jar just to create a weight to keep everything down in the brine. 

Make sure there is enough room at the top of the jar for the mixture to 'breathe'. 
Let the jars sit for at least three days. You should see some lovely bubbles forming. When it's ready, remove the top leaves and enjoy, keeping it in the fridge for up to five months! (if you haven't eaten it all within five days…ahem…)
Korean braised potatoes (gamja jorim) 
This is a quick and easy way to make rather bland potatoes taste delicious! We guarantee that once you have made them they'll become a go-to side dish. 
Peel and chop the potatoes into equal size pieces. 

Sauté them until they are golden brown (around 4-5 minutes). 

Add a mixture of: water, garlic, sugar, soy sauce and mirin and cook for a further 5-6 minutes. 

As the potatoes soften, the liquid will reduce and thicken. The potatoes should be soft, but shouldn't break apart. 

Garnish with sesame seeds and a drizzle of sesame oil and serve! 
So moreish, these potatoes will also work well for a cold lunch or snack. 
With so many wonderful side dishes to choose from it'll be hard to pick a favourite. Perhaps invite friends and family over to cook them together. Or you could easily create these for a Korean themed dinner party because so many of them can be prepared in advance that you can enjoy chatting to the guests, rather than cooking in the kitchen. And don't forget that you can impress your guests with authentic ingredients from Kelly Loves — the same ingredients used by our professional in-store chefs!