What Is Futomaki Sushi & How Is It Made?
Do you love sushi? Then how about a sushi roll that's thick, colourful and packed full of vegetables? Well, that's exactly what futomaki is. In fact, it literally translates to "fat rolled sushi", which might give you an idea as to what this kind of sushi is all about.
But before you race to the cupboards to find your sushi ingredients and sushi making kit, here's everything you need to know about futomaki.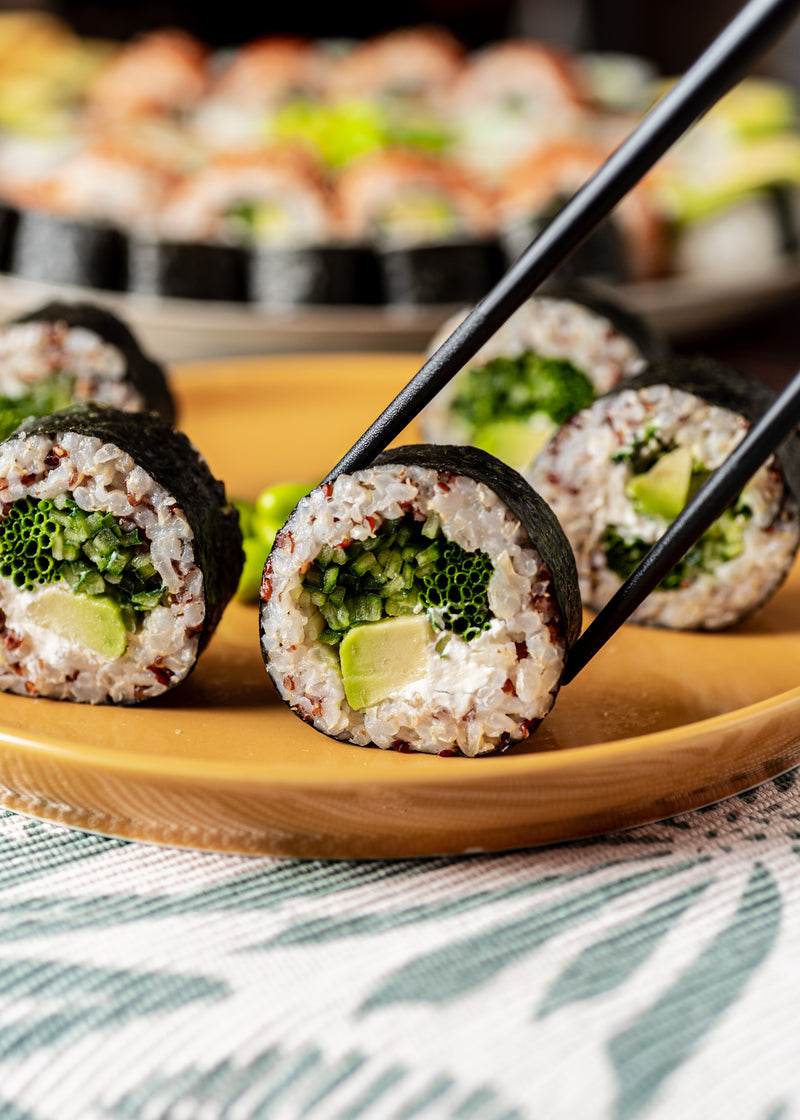 What is futomaki sushi?
Futomaki is one of the most classic and popular sushi rolls in Japan. It's rolled into a long and thick cylinder shape, before being sliced crosswise into smaller pieces. It's this thickness and wideness that differentiates futomaki rolls from other types of sushi rolls.
One of the most important things to remember when making futomaki is that it should be colourful. These sushi rolls are a traditional festival food, originating in the Kansai region of Japan. So striking colours are a key component of this delicacy. 
And with the right blend of both flavours and colours, these sushi rolls are sure to leave any guest impressed. 
What ingredients do you put inside futomaki sushi? 
Futomaki rolls are traditionally filled with rice and a variety of cooked vegetables, rather than being limited to a set few. Some people choose to have five fillings, whilst others opt for more than 10!
The great thing about futomaki is that you really have the freedom to get creative and put your own spin on the dish. But don't get too carried away...futomaki should have a harmonious mix of fillings that taste great when combined together.
Ingredients such as spinach, cucumber, shiitake mushrooms, pickled ginger, seasoned kanpyo, rocket, unagi and carrot are all popular choices, but it's all down to personal preference. Plus, futomaki sushi doesn't have to be purely vegetables: you could include seafood, tamagoyaki or even chicken within the filling.
How is futomaki sushi made?
So now you know what it is, how are these sushi rolls made?
When making futomaki sushi, the first step is usually to prepare some of the filings. For example, kanpyo will need to be cooked in boiling water and unagi will need to be reheated in the oven (if already cooked). 
Once all of your chosen fillings are cooked, seasoned and prepared, you can start assembling the futomaki itself. You'll need to place a nori sheet shiny side down on a bamboo sushi mat before spreading a quarter of the sushi rice evenly over the sheet. Make sure to leave around 1.5cm from the top of the nori to prevent the rice from spilling out.
Then it's time to make your sushi look really colourful. Easy-to-hold ingredients should be placed near the front of the nori to prevent any of the filling from falling out.   
Fillings inside, it's time to get rolling. Start rolling the sheet over the filling until the bottom end reaches the rice at the top, ensuring you keep it nice and tight. Using a very sharp knife, you can cut your futomaki roll in half before dividing each half into three or four pieces. 
Have a read of our futomaki recipe for more information.
What is the difference between futomaki and maki?
It's common for the terms to be used interchangeably as futomaki is simply a type of 'maki'. In some regions, futomaki may be used to refer to a larger sushi roll, whereas others will say there's no difference between the two.
How to eat futomaki sushi
Most types of sushi are supposed to be eaten in one singular bite. But futomaki is often too big for that. Of course, it's much more important to be focusing on the flavours, rather than trying to fit it all in your mouth.
Although it might be tempting to devour a futomaki roll or two (or three) as quickly as you can, chewing slowly will help you to fully appreciate the flavours. Since there are so many fillings, tasting how they all complement one another is part of the magic of futomaki.
So, fancy some futomaki? What are you waiting for? We've given you the info you need, we've given you the recipe — now it's up to you. Grab one of our sushi making kits and get cooking.