Masago Sushi: What Is It and Recipes
Sushi comes in all different shapes, sizes and, most importantly, flavours. Masago is a popular choice of ingredient for sushi rolls , bringing a unique taste and texture to the dish. It can be used as a topping, a filling or even for decorative purposes — the options are endless. However you plan to incorporate this delicacy into your sushi dishes, we've got all the tips and tricks you'll need.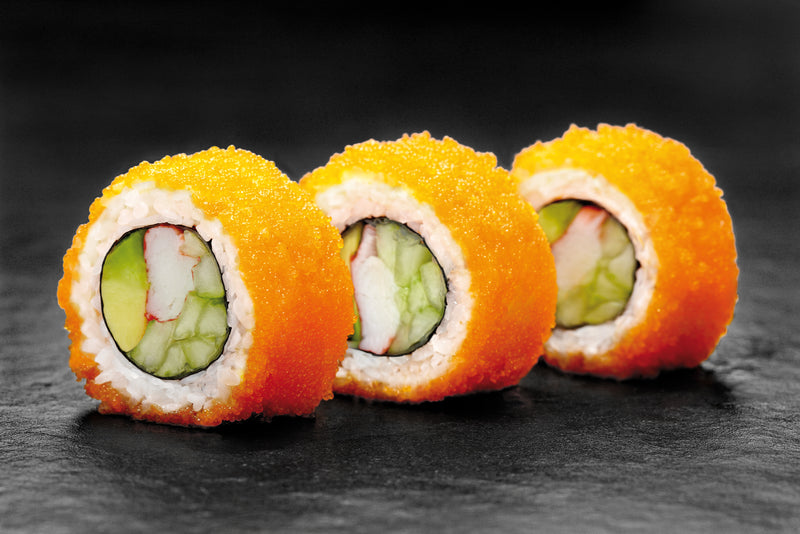 What is masago in sushi?
Masago, also known as 'capelin roe', is a type of ripened fish egg that comes from small capelin fish. Masago is a pale yellow colour in its natural state, but it's often dyed bright orange, red or even green to give it an eye-catching appearance.
Masago is a popular choice of ingredient for a variety of reasons. It's visually appealing, tastes fantastic, brings a slight crunch of texture and offers a range of health benefits. Although only small, these eggs contain protein, selenium and omega-3 polyunsaturated fats. What's not to love?
What does masago taste like in sushi?
Masago has a slightly salty yet sweet flavour, often described as a little bitter, briny, citrusy and fishy. Since it has a relatively mild flavour, masago is commonly paired with other ingredients such as wasabi, ginger, soy sauce or even squid ink. 
That's why masago is the perfect addition for sushi rolls — it adds a pop of flavour without being too overwhelming. The slightly crunchy texture works especially well with rice and vegetables, helping to create sushi that's full of flavour, texture and visual appeal. 
How is masago harvested? 
Female capelin start releasing their eggs between 2-4 years of age, but precise timing is needed when it comes to harvesting. Masago needs to be harvested when the female capelin are full of ripened eggs but haven't yet had the chance to spawn. 
Around 80% of harvested capelin is used for producing fishmeal and other fish oil products. Whereas only 20% is used for the production of that tasty masago. 
How is masago used in sushi?
If you're looking to make your sushi a little more creative, masago is the perfect choice of ingredient. It might be small, but that doesn't mean it can't take your sushi dishes to the next level. 
As a topping or garnish
One of the most popular ways to use masago is as a topping or garnish for sushi rolls. Those striking red or orange colours look great sprinkled over the top of a California roll.
But using masago to decorate your sushi rolls won't just be pleasing to the eye. Only a simple coating of this delicacy will add a perfect crunch and subtle flavour to every bite. 
As a filling
If you want to appreciate the full flavour of masago, why not use it as a filling for your sushi rolls? Get creative and swap out your usual fillings for something that'll certainly look a little more bold.
When used as a filling, the crunch of these eggs provides a contrast between the softer texture of rice, making it the perfect combination.
For decoration or presentation
You don't need to be a top Michelin star chef to make your sushi dishes stand out from the crowd. In fact, all you need is a little masago.  
Volcano sushi rolls are an example of how these capelin roe can provide an incredible decoration for a dish. The bright red of the masago is the perfect way to create an effect of lava trickling down the sushi. So if you want to impress your guests at the dinner table, this simple ingredient is the way to go.
Sushi recipes with masago
So, are you ready to get creative? Whether you're using it on the outside or the inside, here are a couple of our favourite sushi recipes that include masago. 
Inside-out California roll 
A California roll is a specific type of sushi roll that, as the name suggests, is rolled inside-out. 
Ingredients:
540g of

sushi rice

255g of crab meat

42g of Japanese mayonnaise 

A quarter of a cucumber
1 avocado
A quarter of a lemon

16g of toasted white sesame seeds

Masago (for the topping)
Instructions: 
In a bowl, mix the crab meat with Japanese mayonnaise

Peel the cucumber, remove the seeds and cut into strips that are the same length as the nori sheets

Peel the avocado, remove the pit, cut it into thick slices and then squeeze the lemon juice over them

Cut the nori sheet into two halves and place one on a

bamboo mat

with the shiny side facing down

Spread 135g of the rice evenly onto the sheet before sprinkling some of the sesame seeds on the rice

Turn the nori sheet over so the rice is laying on the bamboo mat and place the crab meat, cucumber and avocado across the bottom of the nori sheet

Holding the bottom of the bamboo mat, roll forward whilst keeping the filling tucked in

Cut the sushi into equally-sized pieces with a sharp knife

Use your hands to spread masago evenly across the top of each sushi piece
Masago sushi roll 
These sushi rolls use the masago to top the rice, adding extra flavour and bringing a little excitement to the dish. 
Ingredients:
Half an avocado 

85g of masago
Instructions:
Spread a thin layer of sushi rice over the nori sheet, leaving a 2 cm margin at one end

Place the avocado near the opposite end of the nori sheet

Roll the sushi into a thin log shape, starting with the side closest to the fillings and ensuring the filling stays tucked in

Cut the sushi into around eight equally-sized pieces

Add a small spoonful of masago on the top
However you choose to incorporate masago into your sushi dishes, the result will be both delicious and distinctive. And if you're only just starting out on your sushi journey, you can use our
home sushi-making kits
to make the whole experience that little bit easier.