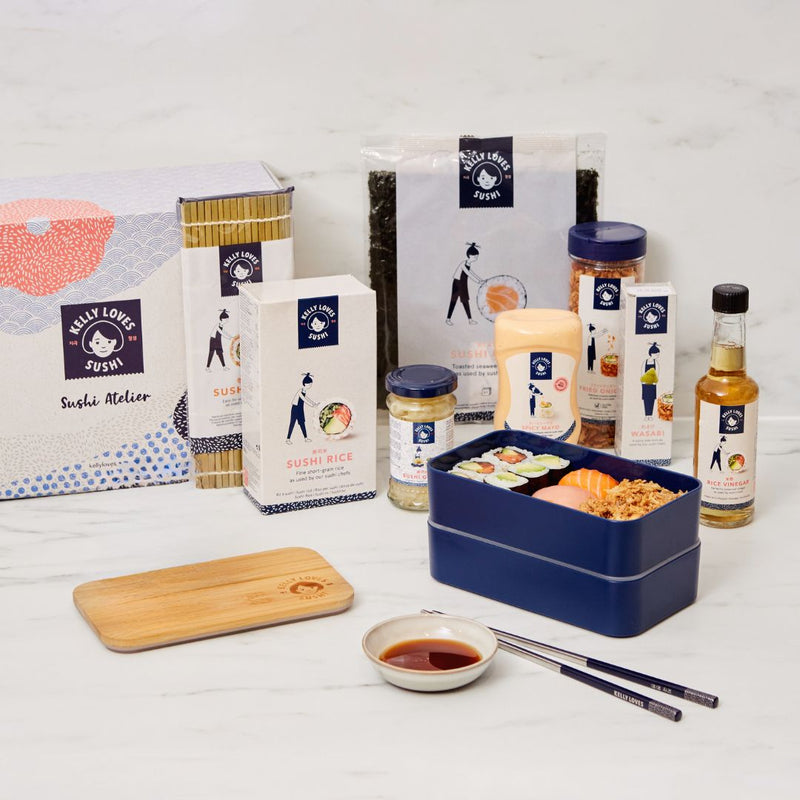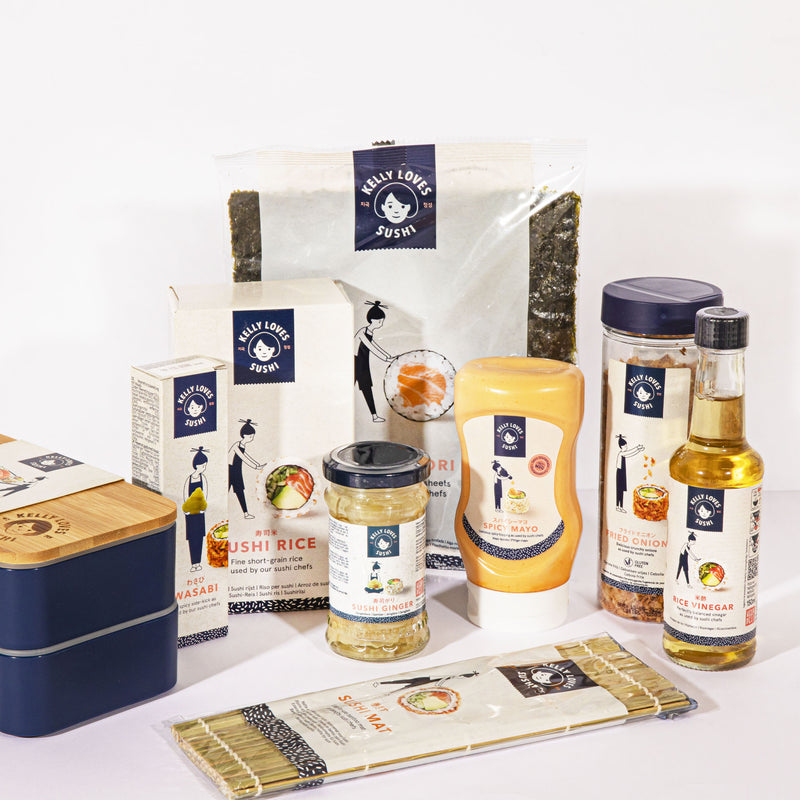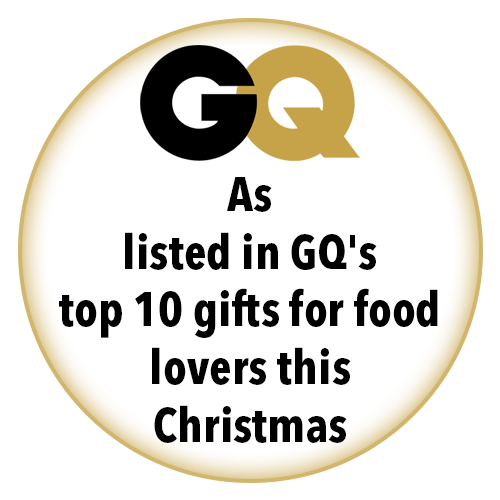 Includes Gift Box
Palm Oil Free
GMO Free
MSG Free
Your Ultimate Sushi Kit has all you need for rolling sushi for everyday lunches or a fun family and friends sushi night. It's also a high-quality, yet affordable sushi gift set. All of the ingredients are the same as used in our Sushi Daily kiosks (just add your choice of fresh fish or veg and some soy sauce).
See here for the whole range of Kelly Loves sushi making kits.
Spicy Mayo: Eggs, mustard, soya, gluten
Rice: Short Grain Rice Nori Sheets: Roasted nori seaweed Sushi Vinegar: Sugar, spirit vinegar, rice vinegar, salt, cane molasses. Spicy Mayo: Water, rapeseed oil, cayenne pepper sauce (red cayenne pepper, distilled vinegar, water, salt, garlic powder), sugar, modified starch (from corn), egg yolk, salt, vinegar, mustard (water, seeds mustard, vinegar, salt), soy sauce (water, soybeans, wheat flour (gluten), salt), thickeners (xanthan gum, guar gum), acidifier (lactic acid, garlic, cayenne pepper). Fried Onions: Onions (made with 211g of onions per 100g of finished product) sustainable palm oil (RSPO certified), buckwheat flour, rice starch, salt. Ginger: Ginger (55%), water, salt, acidity regulators (acetic acid, citric acid), preservative (potassium sorbate), sweeteners (E955, E961) Wasabi: Horseradish powder (33%), Humectant: E420, Corn oil, Water, Wasabia japonica (7.2%), Salt, Thickener: E1442, MUSTARD extract, Acid: E330, Turmeric powder, Thickener: E415, Colour: E133.
Order within
0hrs, 00m
for Next Day delivery
Sorry - Next Day Delivery is only available weekdays and non-bank holidays
The Ultimate Sushi Kit contains everything you need to create great tasting and authentic Sushi at home.
Kelly x
Frequently Asked about the Ultimate Sushi Kit
What does the Ultimate Sushi Kit Contain?
1 x Gift Box
1 x Bamboo Rolling Mat
1 x 500g Sushi Rice
1 x 7 Nori Sheets
1 x 250ml Sushi Vinegar
1 x 285g Spicy Mayo
1 x 150g Ginger
1 x 150g Crispy Fried Onions
1 x 87g Wasabi
1 x Bambo lid Bento Box
1 x 150g Sesame Seeds
2 x Pair of Metal Chop sticks
Do I need anything else to make sushi?
Just add your choice of vegetables and/or meat and top with soy sauce for great tasting sushi at home.
What else can you use the sushi kit for?
You can make endless variations of sushi rolls with your sushi kit. You'll be amazed at how easy it is to make some truly mouthwatering sushi. You can also use your sushi kit to make hand-rolled, cone shaped temaki sushi. And for even more fun, you can look up recipes online for sushi bowls as you'll already have some of the ingredients in your authentic kit.
What sushi roll fillings can I use with this kit?
The best thing about making sushi at home is that you can explore a range of fillings. You can jump in and try sashimi-grade tuna and salmon, or you can use vegetables if you're unsure at first: avocado and cucumber are favourites! You can also try using canned tuna and smoked salmon as a starting point.
Better Together!
Many of our products are designed to be together, why not try these.

Yuzu Iced Green Tea
1 x 500ml Bottle

Roasted Sesame Seeds
1 x 100g Jar
Featured Recipe
Salmon Sushi Roll Recipe
Follow an authentic and easy to follow recipe to make our much loved Salmon Sushi Rolls.
Read Full Recipe
Good quality sushi!
First time making sushi, was delicious and easy to prepare. Great choice for anyone thinking of trying to make their own!
Kelly loves sushi
Purchased this kit for my niece who loved creating her own sushi rolls. Would have given 5 stars but still awaiting sushi vinegar.
A lovely gift
I bought this set as a birthday gift. I think it is an absolutely amazing idea for those, who like sushi, but have never prepared it at home, as there is everything in this set that's needed for first-time sushi makers.
It was packaged in a nice convenient and stylish box.
Gift for my granddaughter as she didn't want an Easter Egg!
Love this kit and my granddaughter does too. Some items were missing but a simple email and this issue was sorted very quickly. Kept well informed of deliveries and an 'extra' item included. Very happy with service and courteous communication.
Great kit
Well packaged and great selection of products. Available to buy at Waitrose so I was able to replace easily once used
More You May Like
Shop the rest of our range for authentic flavours from Asia.
Shop all products
Delicious Inspiration
Feast your eyes on these delightful recipe ideas, to help inspire you on your food adventure.
View all recipes